As the market for enabling and supporting the digital organization reaches fever pitch, HfS' analyst team has run a detailed assessment of service provider capability to deliver the Digital OneOffice™ experience across the five pillars that align the front, middle and back offices. We believe it essential to evaluate how service providers' emerging capabilities are stacking up, not just in each distinct category, but how they align to the holistic Digital OneOffice Framework across these five key pillars:
Pillar 1) The Digital Customer Engagement (Weighing 25%)
Pillar 2) Design Thinking: Designing Digital Outcomes (Weighting 15%)
Pillar 3) The Digital Underbelly (Weighting 20%)
Pillar 4) Intelligent Digital Support Functions (Weighting 20%)
Pillar 5) Intelligent Digital Processes (Weighing 20%)
This is HfS' very first Digital OneOffice Premier League ranking exercise. We have taken the 5 key components of the Digital OneOffice described above, and scored each service provider on each category and subcategories as applicable (see the Digital OneOffice Organization illustration below). Using materials from recent research projects, namely Blueprint reports and many client reference discussions, we leveraged our broad analyst team's collective knowledge of the industry to perform this analysis, involving analysts Phil Fersht, Melissa O'Brien, Barbra McGann, Jamie Snowdon, Tom Reuner, Derk Erbé, Reetika Joshi, Pareekh Jain, Khalda de Souza and Steve Goldberg.
HfS subscribers can download their copy of the 2017 Digital OneOffice 2017 Premier League here.
The result below is the ranking of the top 25 service providers and how comprehensively each is aligned to the Digital OneOffice framework overall and enabling its clients to become more intelligent organizations that ultimately improve customer experience.

Why The Digital OneOffice is the Future of Outsourcing
The Digital OneOffice Framework is all about the design and implementation of the organizational digital experience and the creation of an intelligent, single office to execute and support it. In a few months, we won't be talking nearly as much about intelligent automation and digital technology as the critical "value levers" for operations, as they become an embedded part of the fabric of the future operations platform for new generation organizations. Instead, we will be talking about an integrated support operation having the digital prowess to enable its organization to meet customer demand – as and when that demand happens. Everything about the digital organization is about engaging people by responding to their needs instantaneously, giving people their choice of medium to interact with it, be it voice, chat box, text, Facebook messenger, email, virtual agent, etc.
In this context, "Digital" describes the interactive channels that drive customer engagement, such as cognitive agents, interactive tools, mobile, social, text and chat. "OneOffice" describes the enabling technologies, such as unified analytics and cognitive automation, that enable real-time predictive capabilities and an engaging digital experience that unifies all the stakeholders across the organization: the customers, partners and employees. In short, the Digital OneOffice is where the organization's people, intelligence, processes and the infrastructure come together as one integrated unit, with one set of unified business outcomes tied to exceeding expectations.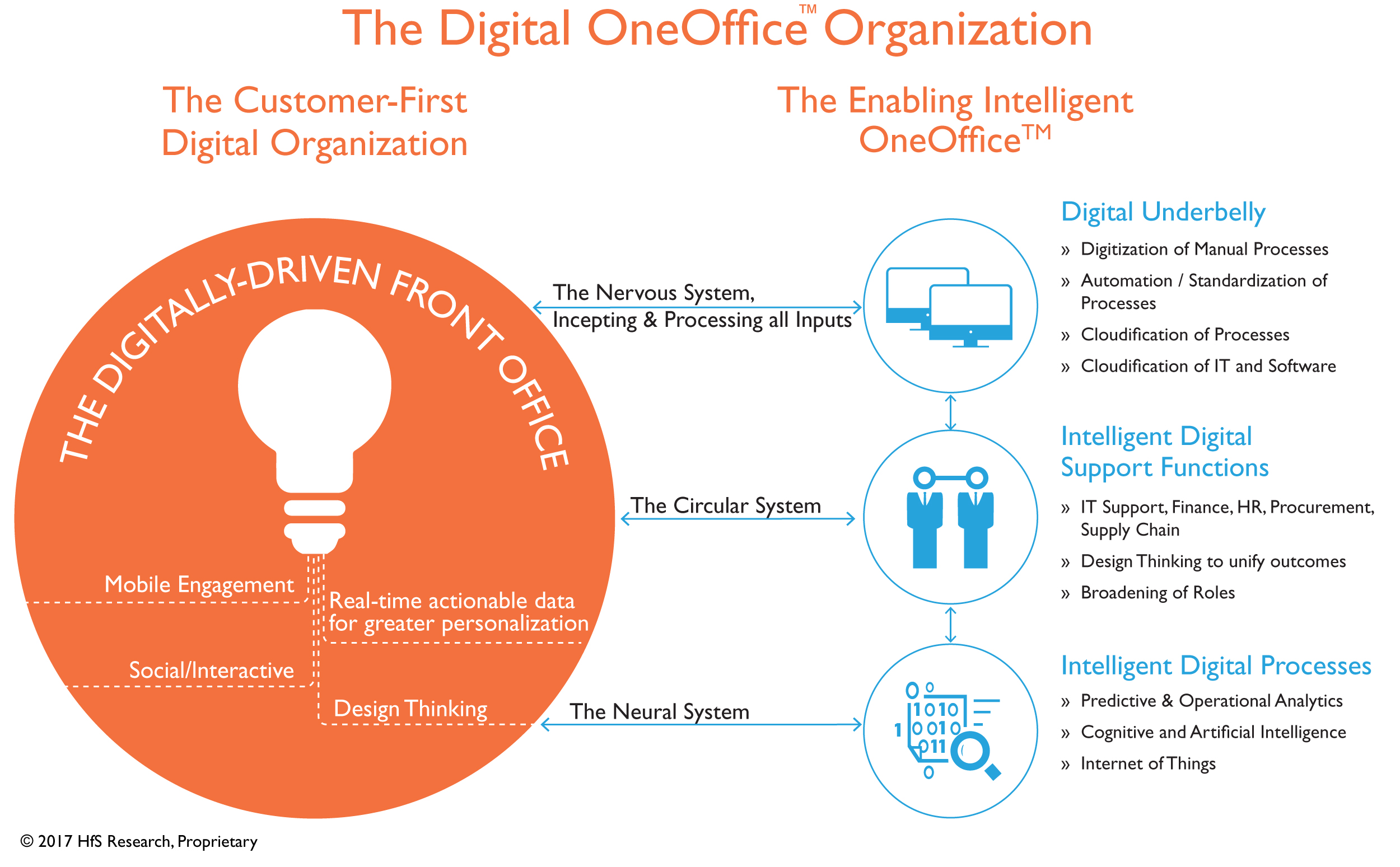 The Bottom-line: The Winning Service Providers are those who can become Digital OneOffice Organizations themselves
The bottom line is that digital is all about realigning the organization to the customer; even those processes and roles which aren't even remotely customer facing still play a critical role in supporting the digital customer experience. The service providers we have evaluated all play different roles in enabling that for clients. Those which scored well in the rankings are doing the best at bringing together the cross-organizational Digital OneOffice concepts for clients, but in the age of frequent and abrupt disruption, things can change. In 2017, we'll continue to see service providers making moves to invest in and build out more comprehensive Digital OneOffice capabilities as well as those which will double down in the pillars of The Digital OneOffice where they excel. These are still early days, and we anticipate the next iteration of the Digital OneOffice Premier League will produce winners which have proven they can integrate the pieces most effectively, driving transformation across the pillars leveraging their strategy, consulting, Design Thinking and operational enablement prowess.
To conclude, people simply want to operate digitally these days, whether they are an employee, customer or partner. They want to use interactive technology, mobile apps, social media, text, online chat, etc. to get things done. We are used to using sophisticated digital technologies in our personal lives, and now expect to use them in our professional lives. Whether we are buying products, groceries, renting accommodation, ordering Starbucks, takeout, applying for mortgages, insurances policies etc., digital technology is the new language of business. The issues facing many traditional businesses today is the fact that while the consumer is increasingly digitally sophisticated, many organizations are still beholden to legacy technologies and processes that are fast sinking into obsolescence. In addition, many have employees in the "back office" who are so steeped in the legacy way of doing things, they are facing a double-edged issue: how do they drag their operations kicking and screaming out of the dark ages to support their digital customers? The answer, believe it or not, is quite simple: break down the barriers between departments, involve the digital customer experiences into all the business processes and practices, by creating a Digital OneOffice where an organization's customers, partners and employees are all entwined together to deliver the end customers the ultimate experience, and the operations function a genuine connection with the true running of the business from back to front.
Net-net – every touch point of the modern business needs to be digital – and to achieve that you need to be a digital business right at your core, where the most rudimentary of processes are automated to enable the building blocks of the digital experience. The winning service providers will be those which are true digital organizations that can partner with their clients to feed off their DNA and culture.
HfS subscribers can download their copy of the 2017 Digital OneOffice 2017 Premier League here
Posted in : Digital Transformation, OneOffice