We interviewed 300 digital technology decision makers across the Global 2000 to get up close and realistic about their experiences working with all the main IT consultants and services providers, when it comes to their consulting and strategy abilities (report can be accessed here).
What's unique about the HfS approach is we don't allow any of these firms to opt-out of our report, and we also do not need to rely on the wined-and-dined reference clients for their rose-tinted views. So how did this all shake out?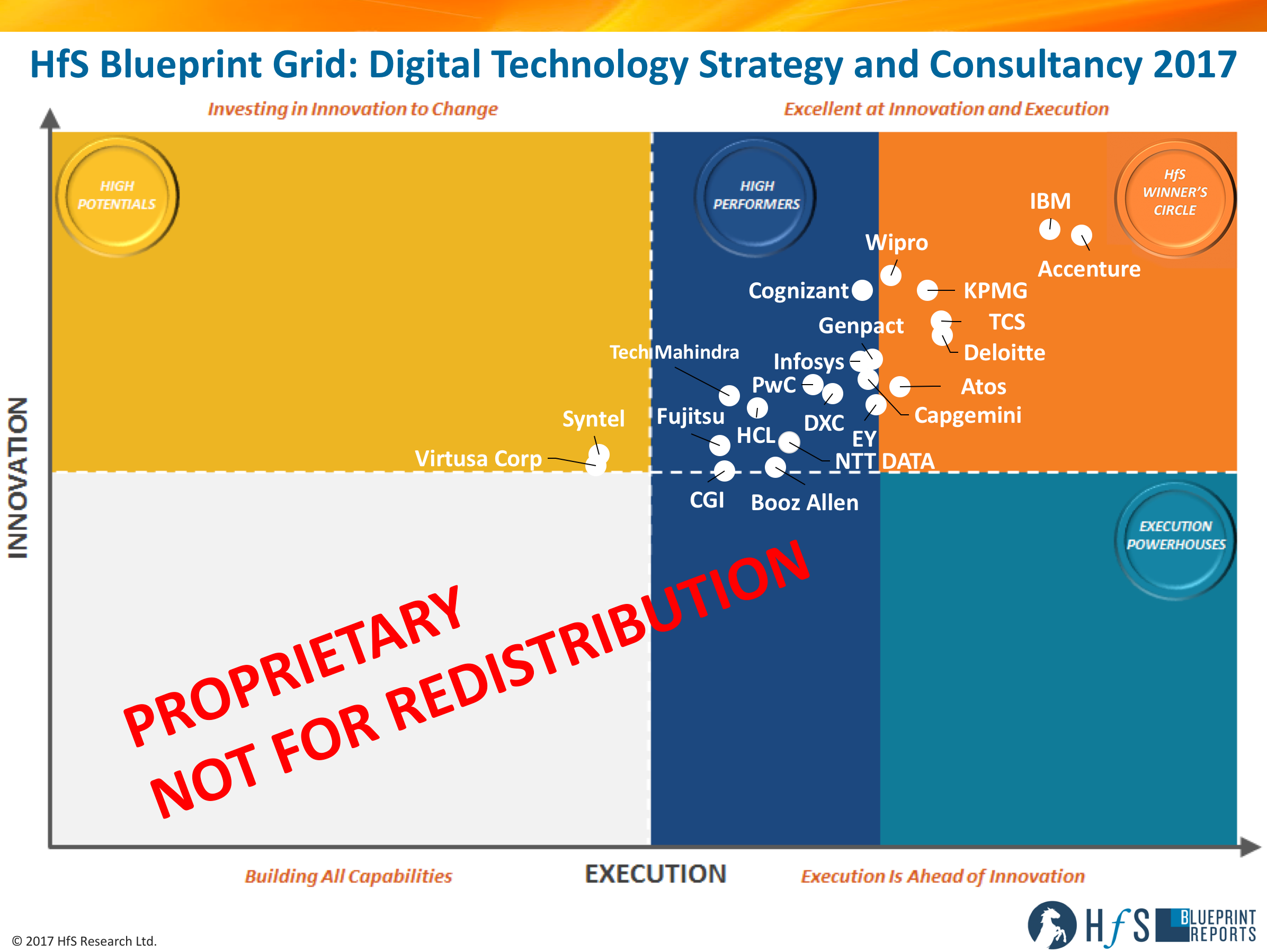 For us, the standout performers are TCS, KPMG and Wipro, after the obvious "big two". And this is so much more about pragmatism and focus, than big marketing and glitz.
Let's take a closer look out the digital tech services firms which make up the 2017 HfS Winner's Circle:
IBM: IBM is all about technical skills and the ability to bring a wealth of enterprise IT experience to fix a problem – the company has thrived on huge transformations, which has proven both a bane and a boon for the firm, as the whole IT industry shifts to smaller-scale deals, more one-off projects and the demise of the multi-year billion dollar managed services contract. Big Blue has invested in strong business consulting skills across offerings including customer experience/design thinking to help clients understand digital and drive value out of tech projects. In addition, the arrival of former Accenture consulting head Mark Foster is having a significant impact on IBM's approach to services as the firm seeks to embrace the value of Watson and break out of legacy FTE engagements which are weighing down so many service providers. While it's been a tough couple of years dealing with these winds of change in the traditional global services sector, the firm's focus on designing and operating complex solutions is starting to bear fruit and it's recent top spot in the Digital OneOffice Premier League emphasizes its broad capabilities across the front, middle and back offices. It's big challenge now is to become the ultimate "whole is greater than the sum of the parts" partner for clients.
Accenture: Accenture scored highest in the ability to execute criteria, supported by a plethora of recent acquisitions that shore up its digital business. With digital talent and resources in abundance – the challenge now is to integrate of the likes of Karmarama, Chaotic Moon and Kuntsmaan and align these front office design areas with the firm's digital technology execution. The landmark acquisition of Fjord has paved the way for the firm to allow its digital assets to maintain their own creative cultures and leverage the Accenture execution and consulting machine. However, the massive new abundance of digital acquisitions (19 so far this year) could prove challenging, simply because of the sheer size and scale of the new investments. Whichever way we look at it, Accenture is now firmly competing with advertising agencies for digital accounts, and is redefining the whole digital market place with its aggressive approach. Accenture's challenge now is to capitalize on its terrific momentum in the digital space and really bridge its newly-acquired design capabilities with its execution machine. With projects increasing in business focus and the need for data-driven consulting, this should be Accenture's market for the taking, but ultimately the firm will need to venture beyond its comfort zone inside the Global 2000.
KPMG: KPMG's capabilities in the traditional consulting space haven't held it back from pushing a compelling digital narrative. The firm's digital clients are benefiting from the cross-pollination of design talent and operational prowess to address business challenges. The firm's operational prowess to integrate the back office with the customer experience has been noticeable with several major clients, and its ability to partner effectively with the likes of Microsoft and IBM are putting the firm in a surprisingly strong position as one of the most nimble of the "Big 4" to work on spot projects and larger more complex transformations – a critical component of making these digital initiatives successful. KMPG does need to work on its brand positioning in the digital market as it continues its impressive trajectory – both in terms of thought leadership and perception from CIOs.
Wipro: Investments in Designit and Appirio have created a defining set of digital capabilities for the firm – giving the firm the necessary structure and focal point to repackage the firm's strong operational IT skills to match a client's digital transformation agenda. While its current digital footprint is still emerging, its ability to partner with digital native pureplays and fintechs is impressive, and its digital design labs in the US and UK great hubs for driving new client work. We view Wipro as a well-resourced, disciplined outfit which could emerge as a genuine contender in the digital race, as clients needs become more demanding and providers have to be more flexible and aggressive to take advantage. Its challenges moving forward are scaling its consultative talent and finding smart ways to bring its Holmes AI platform into meaningful client conversation. Wipro is frequently viewed as a "safe pair of hands" for IT projects and it need to work hard to evolve this perception.
TCS: TCS has the scale and capacity to handle heavy IT and digital engagements, which makes the firm perfect for organisations with a lot on their digital to-do list. They've also got a great reputation for packaging their deep domain experience into usable solutions for clients. TCS simply has that ability to win any deal in the world if it really wants – its industrial and relentless approach to execution always stands the firm in good stead, and its aggressive more to analytics and automation will be crucial for digital exercises with clients mired in obsolete processes and creaking infrastructures. Its challenges are managing its next phase of growth, with the firm famous for avoiding acquisitions in favor of organic development. With this convergence of digital business design capabilities with IT execution, organic growth may no longer be an option as the market consolidates at unprecendeted speed and the emergence of digital pureplays threaten the traditional IT service model.
Deloitte: Deloitte has solidified its position in the digital space, driving innovative thought leadership and research into the market and using it to develop offerings. Similarly to KPMG, the firm can also bring that same "outside-in" broader market perspective to help firms contextualize new technologies and solutions within the broader market and industry trends. It's no surprise Accenture has recruited Deloitte's head brand honcho, Amy Fuller, to take on the Accenture CMO role next year (see link) – clearly the brilliance of Deloitte's branding and thinking has impacted the industry at the highest levels. However, while Deloitte is clearly an early leader in the space, we are seeing several key competitors closing the gap, both from the traditional consulting space, as well as the outsourcing industry. We need to see the "what's next" from the firm as competition intensifies.
Atos: Atos' broad digital offerings include structured transformation projects – such as the Atos Digital Transformation Factory – which offers clients an accelerated journey to embracing digital. The firm offers significant experience in some industries (mainly public sector, manufacturing and retail) and especially in Europe with a long list of successful engagements. On the IT enablement side of digital, Atos is clearly doing well, however, adding capabilities at the design front-end would add significant capabilities if the firms wants to compete more aggressively with the market leaders. However, outperforming the likes of Capgemini and DXC is a significant achievement for the French-led firm. Atos really need a flagship digital acquisition to take its strategy to the next level and keep it ahead of its traditional competitors.
Premium HfS Subscribers can download their copy of the Blueprint Report, "Digital Technology Strategy and Consultancy Services 2017" authored by Phil Fersht, OIlie O'Donohue and Jamie Snowdon, by clicking here.
Posted in : Digital Transformation