The traumatic Q4 results season has finally ended and our Chief Data Officer, Jamie Snowdon, is able to report on the final Q4 standings…
We've visualised the latest set of results for Q4 in the diagram, the top chart shows our usual margin v growth view (excluding AWS). With a chart showing the quarterly growth for Q4, an estimation of the annual (calendar) growth and the Q4 operating margin.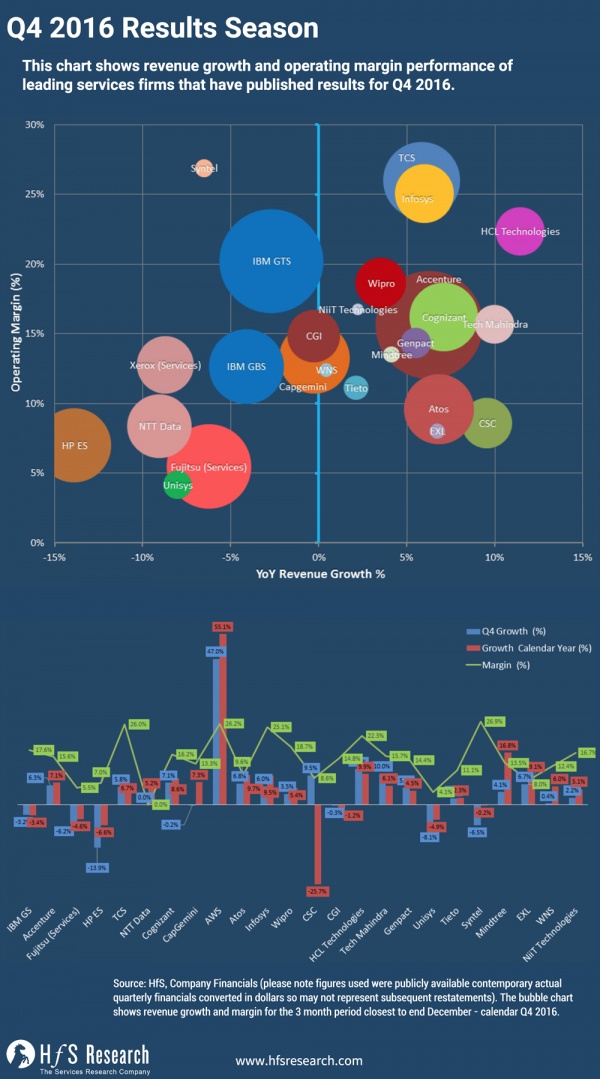 For each of the providers the results look like this:
| | | | | |
| --- | --- | --- | --- | --- |
| | Growth Q4 (%) | Growth 2016 Calendar Year (%) | Margin Q4 (%) | Comments |
| Accenture | 6.3% | 7.1% | 15.6% | Good quarter for Accenture with plenty of success stories around digital, cloud and security. Constant currency growth around a percentage point above the actual growth for the quarter. Annual services growth is 7.1%. |
| Atos | 6.8% | 9.7% | 9.6% | Coming down from the highs of its recent acquisition-fuelled growth of the last couple years – Atos remains solid with organic growth at 1.8% for the year and 1.9% for the quarter. Benefiting from strong execution and its investments in analytics, security and automation. |
| AWS | 47.0% | 55.1% | 26.2% | Although AWS revenue growth has slowed in percentage terms that is due to the scale of its actual growth in Q4 2016 it added over a $1Bn in revenues over Q4 2015. AWS is adjusting its strategy to become more relevant to large enterprise clients that want more than just public cloud. Thanks to its partnership with VM Ware hybrid is no longer a dirty word at AWS. |
| CapGemini | -0.2% | 7.3% | 13.3% | Poor end to a good year – 2016 growth up 7.3% (7.9% in constant currency) -0.2% in Q4 (1.9% CC). iGate integration now done can concentrate on operations. Strong application growth for the year (10.6% CC) – portfolio shift toward digital, cloud and automation. |
| CGI | -0.3% | -1.2% | 14.8% | Constant currency growth was higher than actual at 2.8%, giving the provider around market performance for the quarter – the firm has strong signings and order backlog so we expect to see actual growth during FY 2017. |
| Cognizant | 7.1% | 8.6% | 16.2% | Cognizant continue to shift portfolio more toward digital services as its traditional markets slow. Hit by weak UK market performance in Q4 – we expect its growth profile to remain at similar levels into 2017. Overall growth for 2016 was at 8.6% |
| CSC | 9.5% | -25.7% | 8.6% | CSC saw a healthy pickup in revenue growth due to recent acquisitions, notably xChanging and UXC. However, revenues overall for the year still down thanks to earlier split. The company is still due to merge with HPE's services business in April. |
| Fujitsu (Services) | -6.2% | -4.6% | 5.5% | Q4 declined -6.2% in its technology solutions services busines for the quarter, with small declines for the whole year. Sales in the Japanese market picked up with growth of 4.5% during the quarter. International business impacted by strong Yen – with Europe and especially the UK hurt the most. Infrastructure services hit particularly hard – although its systems integration business showed a growth of 5.7%. |
| Genpact | 5.5% | 4.5% | 14.4% | Constant currency growth was stronger for the quarter at approx. 7%. Growth for the year was at 4.5% (6% at constant currency) – this growth was largely down to its BPO business which grew at 7%, its IT Outsourcing business shrank 5%. |
| HCL Technologies | 11.5% | 9.9% | 22.3% | HCL's growth in 2016 was 9.9% US$, it expects to hit middle of its 12-14% guidance for fiscal year. HCL seen strong growth in application services and infrastructure services businesses, Infrastructure services growth due to large deals like Volvo. |
| HP ES | -13.9% | -6.6% | 7.0% | Not a great deal to say about HP's servies business – we expect more meaningful dialog once the merger with CSC has happened. |
| IBM Services | -3.2% | -3.4% | 17.6% | IBMs total growth driven by strategic imperatives analytics, cloud, mobile, security and social. Q4 YoY all cloud topped $4.2B in Q4 growing at 33%, its annual AaS run rate reaching $8.6b (GTS only had 50% cloud growth with AaS RR of $5.8b) IBM GBS hit by declines in traditional services revenues like ERP – it is still struggling to grow. GBS saw declines in consulting, GPS (BPO) and apps management in Q4. Revenues shifting to digital as GBS delivers more cloud services revenues, which reached 77% growth for GBS in Q4. |
| Infosys | 6.0% | 9.5% | 25.1% | Overall Infosys revenue for 2016 was up an impressive 9.5% during the calendar year. Like its contemporaries, Infosys continues to drive additional growth through refocus on digital – particularly on Automation and AI. |
| NTT Data | 0.0% | 5.2% | 0.0% | Although growth in Q4 was flat, thanks to strong H1 growth in 2016 was at 5.2%, with improvement in the Japanese market. Strong growth in cloud and digital services. |
| TCS | 5.8% | 6.7% | 26.0% | Growth below 10% for 8 quarters, still largest offshore-centric firm adding c$250 million in revs Yr-on-Yr in Q4, and >$1Bn in 2016. Growth driven by cloud, digital and platforms business, 30% growth in digital. |
| Unisys | -8.1% | -4.9% | 4.1% | Unisys declined by 4.9% for the whole of 2016. Unisys still can't seem to catch a break, it needs a good quarter to break the cycle constant internal cost-cutting and focus on becoming relevant to the market by executing changes to its services portfolio. |
| Wipro | 3.5% | 5.4% | 18.7% | Wipro's 5.4% for 2016, the weakest of the offshore firms. Wipro is pivoting from traditional services to Digital and AaS. Making digital priority with >$1Bn in acquisitions this year. Digital up c10% sequential growth in Q4. Digital 21.7% of revenues. |
However, it is important to view Q4 in context, the following chart shows the average and weighted average revenue growth of these tracked providers, which represent 75 of the largest IT and business service companies.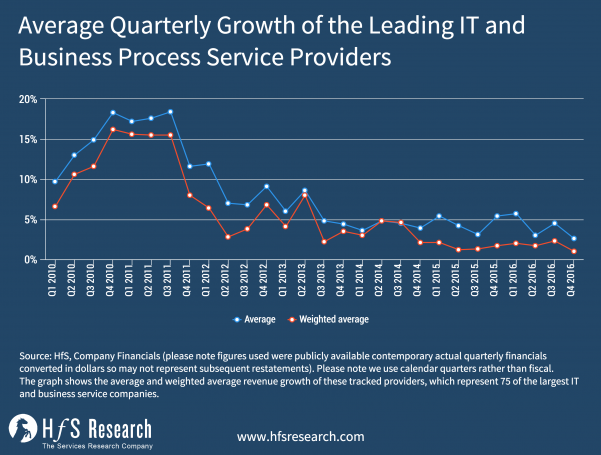 After a strong Q3, Q4 dropped back – making it the worst quarter for average growth since 2010. There are a number of factors that caused this drop – partly the on-going uncertainty in the market heightened by Brexit and Trump, but also the last few quarters were boosted by revenue from smaller acquisitions which no longer impact the growth.
The Bottom Line – The traditional outsourcing model has had its day, now we need to focus on the emerging client needs in this transitional market
For the market as a whole Q4 was a disaster – with the worst average growth rates seen since we started this tracking in 2011. This really shows how much the market is shifting toward new more technology driven solutions and how much of the traditional cost is being cannibalized by these new digital platforms and automation.
The onus is on us as analysts to start looking more deeply into the underlying trends in the market as the top-line data is increasingly swamped with hangovers from last decade. There is growth out there – but it is barely offsetting the declines in existing business. We have looked under the hood of the infrastructure management services market in one of our latest reports – IT Infrastructure Management Services in the Post Digital World – which is available on hfsresearch.com.
Posted in : IT Outsourcing / IT Services, trends-analysis