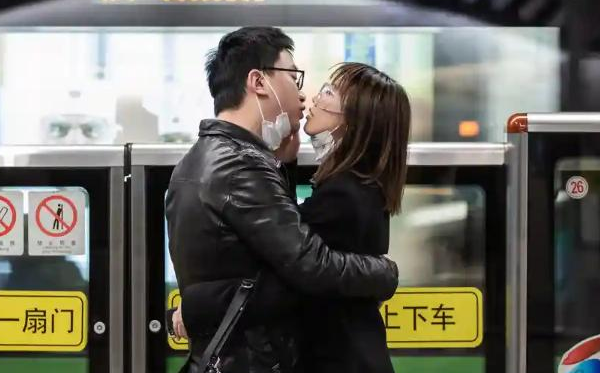 Well, what a difference a few weeks make! Our business environment had never become so social, so connected, so personal, so networked… Life had become a logistical quandary of constant air travel, hotels, conferences, meetings, workshops. Just doing one's day job and spending time with one's family was becoming a huge challenge for so many. Then suddenly it's all changed overnight. Wow.
Welcome to the New Abnormal everyone…
As of March 3, 2020, over 90,000 cases of COVID-19 have been confirmed worldwide across 73 countries, with over 3,200 deaths. With over 100 cases now confirmed in the United States, including cases of undocumented origin, the virus is now spreading faster outside of China for the first time.
With the WHO, the CDC and various key government health bodies making it clear that this novel virus is "highly likely" to spread worldwide, we are now entering unchartered territory. While the current death rate seems to be hovering around 2%, indicating that while highly contagious it is not highly deadly, it is unclear how this virus will behave once it has a widespread stronghold in the community.
We have never before seen a respiratory pathogen that is capable of community transmission, but which can also be contained with the right measures. The unprecedented measures China put in place, albeit later than optimal, has helped curb the spread and taught us all the advantages and the perils of locking down entire cities or regions. Last week was a clear example of how emotions were guiding the stock market, as panic about manufacturing slowdown, fears of global recession and the unknown path COVID 19 will take, really set in. World leaders are trying to straddle the line between the strict safety measures that would halt spread, and not bringing entire economies to a halt.
Without clear guidelines, companies are trying to find their own balance between keeping their employees safe and not bringing their businesses to a standstill. Here at HFS, we are thinking of the same issues and are trying to find our own balance. In doing so, we wanted to share our thoughts on how we can all move forward in ways that protect both our businesses and our staff and without panic.
Make this a Quarter of "Hunkering Down". Unlike after Sept 11, 2001 or even the 2009 H1N1 pandemic, we are technologically poised to create a new virtual business environment. We have the technology to empower our employees to work locally or even remotely, as well as the ability to do very tech savvy virtual meetings. Strategy sessions, client visits, internal meetings – these are all things that can be temporarily moved to a virtual setting if and when needed, limiting travel to essential travel only. Without clear travel guidelines, this technology will allow businesses to let their employees choose which travel they are and are not comfortable undertaking.
It was estimated today that during the peak of COVID-19, an estimated 1/5th of all UK workers could be off sick at the same time. Allowing flexible virtual working environments by empowering employees with the technology they need to do it will undoubtedly help reduce the numbers off sick and help keep companies stable.
Discuss openly with clients and business partners what they are comfortable with. While some companies have strict new travel policies that have just kicked in, issuing a wave of what will be the new abnormal, for others it may be business as usual unless directed by governments to do otherwise. Discuss openly with clients and business partners their comfort level to travel and attend meetings/conferences and share your own polices. Make it very clear that in this new environment, most if not all work can be done virtually.
Discuss openly with your employees what they are comfortable with. Some of your staff will be gung-ho to risk the virus while others will be nervous to travel on business, especially internationally. Firstly fully understand your liability here – you may have to cover hotel expenses if staff are help for screening/quarantine periods (and some screening costs alone are in the thousands). Once you are comfortable with your exposure as an employer then you can work sensibly with your staff to make sure everyone is comfortable. In the coming weeks, everyone will be accepting of staff who just do not want to travel and those firms who are simply not willing to risk their staff hopping on planes. This is part of the new normal folks!
Invest in getting far more hands-on with the technology needed for this new environment. Companies must ensure that all employees have adequate access they need for teleconferencing and video conferencing capabilities. Make sure you have the tools in place match the need will be critical, as suddenly everyone's going to have a lot more time on their hands behind their desks, so we need to use video far more than we were, get much more comfortable using sharing apps such as Microsoft Teams, Slack, Google Hangouts, Apple Facetime, Skype etc. In short, the culture of doing business is changing dramatically from the physical to the digital, and we have to get used to it fast. We've yearned for digital for so long, now we have to use it!
Keep up to date on information. From reliable sources like WHO, CDC, or government health agencies only. Not passing on misinformation will be critical to ensure that this virus does not become worse for our minds than our bodies.
Unfortunately, it is not all up to us as companies or individuals. As more world leaders try to straddle the balance between keeping economies going and keeping their country's safe, concerns have crept in. In addition, it is unclear the path this virus will take and therefore uncertain if the emergency response will be enough at the peak of the pandemic. It is HFS' opinion that all countries need to prepare.
Learn from the example set by China. While much data points to an initial Chinese cover-up in early December, it cannot be argued that China's move to lockdown Hubei Province hasn't helped stem the tide. Despite the great risk to their own economy and the global economy as a whole, China acted in a manner that has bought other countries time to prepare for likely spread. Global leaders must now be ready to do the same kinds of school and government office closures if needed.
Prepare for worst-case scenarios and nothing less. Over-preparedness has never harmed anyone. Ever. It's been annoying and it's been frustrating but it never hurt anyone. Governments must adopt this philosophy and put plans in place to prepare for possible office closures, school closures and travel freezes as well as the need for medicine, ventilators, doctors, hospitable beds, etc.
Make widespread testing available and accurate. After returning to Miami in January from a work trip in China, Osmel Martinez Azcue was developing flu-like symptoms, just as coronavirus was taking over the country he had visited. Recognizing the seriousness, he felt like the responsible thing to do was check himself into one of Miami's largest hospitals. The hospital staff followed the proper protocols, took the necessary precautions, and put Azcue in a closed-off room. Fortunately, blood analysis found that he simply had the flu.
Mr. Azcue was rewarded for his diligence with thousands of dollars worth of medical bills. If governments are going to fight this via as much containment as possible, this cannot happen. People cannot avoid testing because they are afraid of the cost of finding out. What would happen when the coronavirus outbreak spreads in the United States if Americans avoid seeking medical care because they're concerned about bills they can't afford? It would be catastrophic in terms of containing the virus, devastating to the economy and even more crucial, critically dangerous for those who may become ill. Testing should be made available for all so we can all work together to contain and mitigate the risks facing the global community right now.
The Bottom-Line: Life just changed but at least we can finally become Digital with how we do business
When we polled 355 enterprise leaders across the global 2000, the shift to digital from physical / face-to-face ranked number one as their primary business pressure. Well now they're going to be forced to make these pressures come true: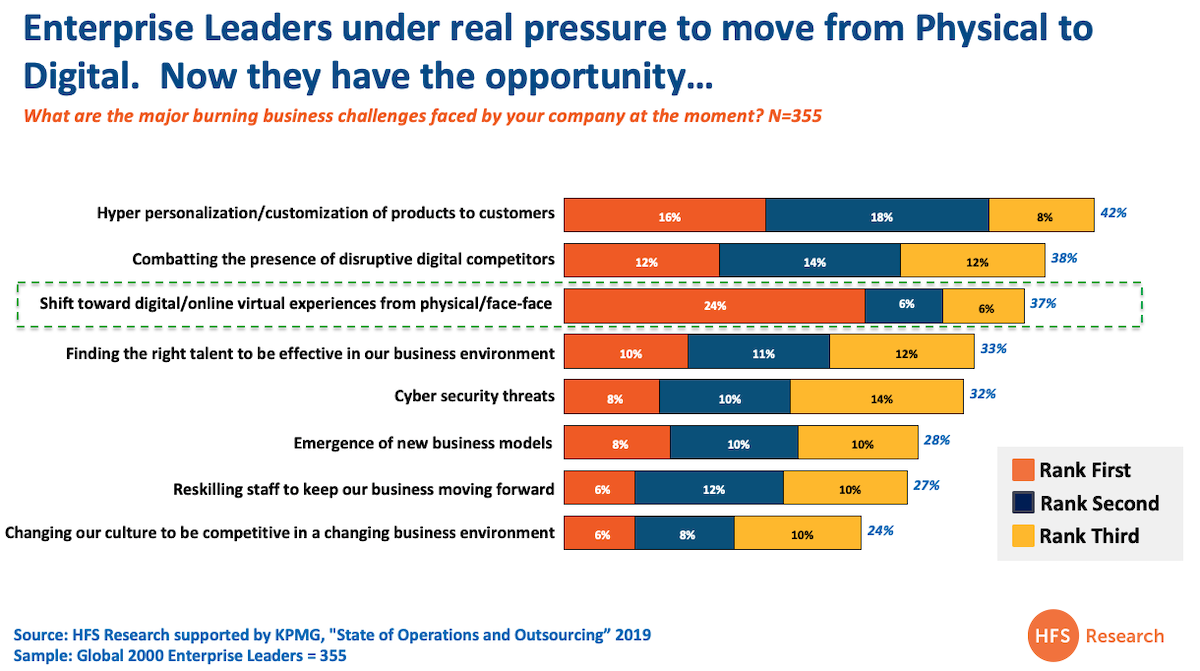 So – right now – it feels as if the whole fabric of our industry is being ripped apart all around us – and in some ways it is. However, this forces us to brave up to the world around us in a way we never envisaged…
Less travel = more family time and staff time. For me, personally, this is revolutionary. I was hopping from country to country like it was just normal …and this has made me take stock. Fortunately, I have spent so much face time with my clients, industry friends, and colleagues that I am sure we can survive for a while on videos and phone calls. I can also spend more time with my family who saw me as little as much of my team!
This will pass, but it may instill some better work and life habits… more time behind a desk means I can call all those people I have neglected, write more research pieces, think deeper about the future and where everything is going.
Peace out friends, we'll get through this one =)
Posted in : policy-and-regulations