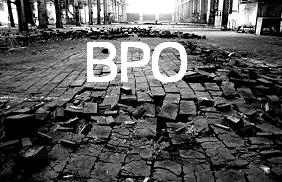 As we discussed last month, the Business Process Outsourcing market is maintaining double-digit growth as we move into 2009, fueled by increased uptake of source-to-pay, analytics, finance and accounting, HR and industry-specific services. WNS Global Services, one of the largest pure-play BPO providers, with revenues in excess of $500m, has posted a 15.9% increase in revenues for Q4 2008, over the corresponding quarter in the prior fiscal year.  WNS's main competitor Genpact is due to report on 18th February, and I would expect to see a similar revenue increase from them.  It really appears that BPO is finding its feet and
the troubled economy is not impeding growth, although you would expect some sectors, namely retail and manufacturing, will be delaying long-term commitments until the economic outlook stabilizes in the coming months.
Key contributors to WNS's growth included:
Contract renewal for five years with SITA, a global specialist in air transport communication and information technology solutions, to enhance supply chain management and customer service;
Contract renewal forthree-years with Centrica, to provide BPO services for its subsidiaries, British Gas and Direct Energy;
Contract renewal for six years with SAS Airlines, the largest airline company in Scandinavia, to deliver passenger revenue accounting processes.
New research from AMR already indicates 20% growth in procurement and source-to-pay in 2008, and continual double-digit growth in both Human Resources and Finance and Accounting BPO domains.
Reasons for this uptake are primarily cost-savings on offer from lower-cost offshore labor, largely in India and Philippines, but also increased maturity in delivering BPO services underpinned by common technology platforms, which enables better process efficiencies. Moreover, the uptake of customized offshore services, namely in analytics and data management services has contributed to this market growth.
As the US recession deepens, and downward pressure is applied on US wages, we anticipate increased BPO uptake in lower-cost US locations, for example Albuquerque (New Mexico), Cincinnati (OH) and El Paso (TX), which are already benefiting from outsourcing service providers providing onshore BPO services that are primarily customer, employee and supplier-facing. I also believe the Obama administration will deliver legislation that encourages US firms to source work to onshore locations, which may slowdown BPO adoption, but will provide new employment opportunities to the flagging US economy.
Posted in : Business Process Outsourcing (BPO), Finance and Accounting, HR Outsourcing, kpo-analytics, Procurement and Supply Chain