I love blockchain – all the hypesters think its the biggest thing since the Internet, primed to blow up the stranglehold banks and corporates have over the world and how we deal with money, while others are dismissive, viewing the tribalism of governments and their paranoia of loosening up cross-border regulations, as the ultimate impediment behind blockchain ever fulfilling its true potential. And there are the techno gloomers who struggle to see how we can really make this thing enterprise ready and feasible in real world business situations.
So why not read the first ever analyst view of how emerging blockchain capabilities are evolving with today's fleet of service providers: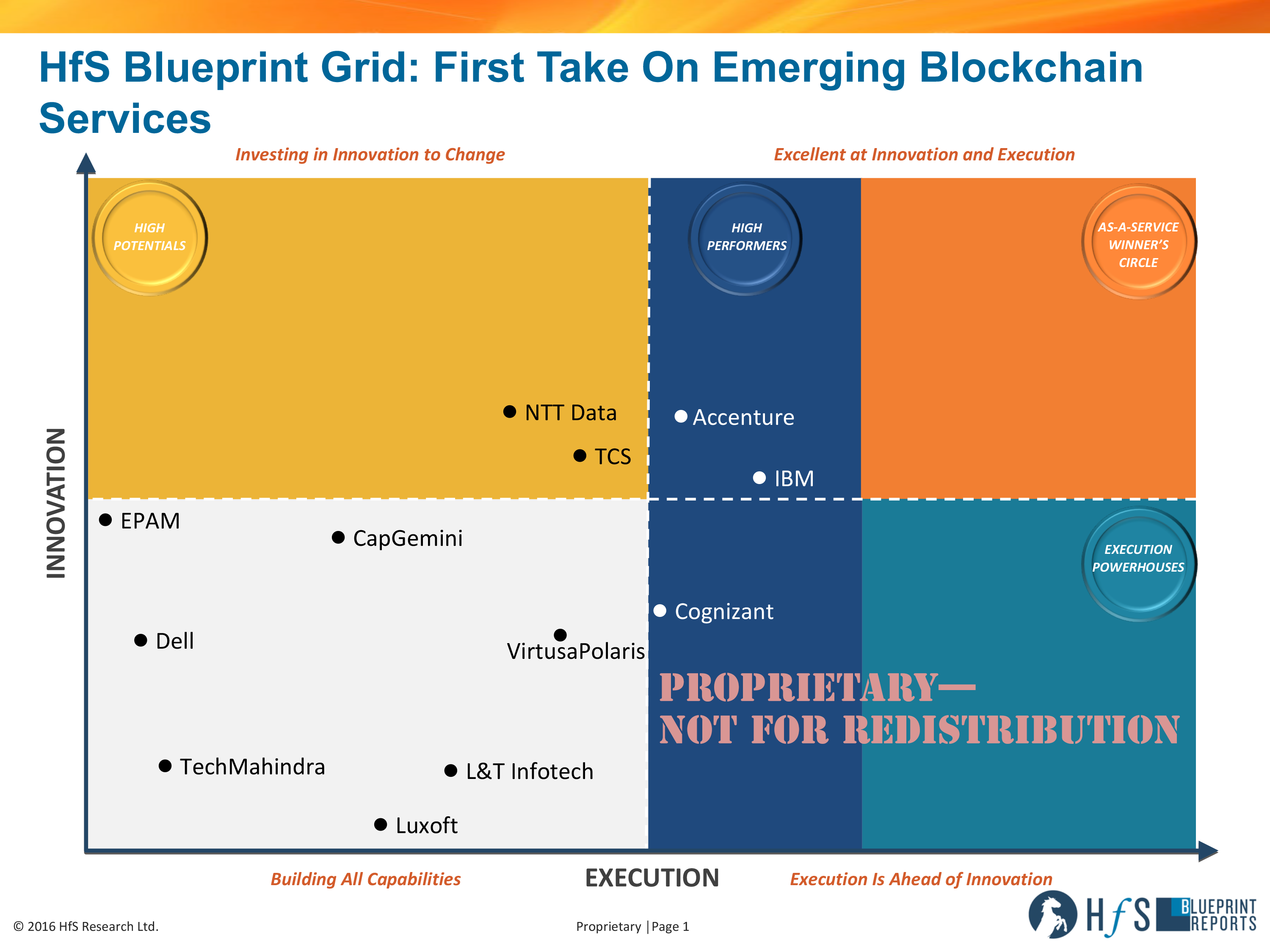 I wanted to share briefly some nuggets from report author Christine Ferrusi-Ross' great blog on the core recommendations:
Clients and their service providers are learning blockchain together. This is bad if you want someone to hold your hand and tell you everything is going to be ok, that they have the answer for you (by the way, no judgment from me on this – if there's a well understood solution and you can hand it over to someone to get it done, go for it.) BUT it's fantastic if you really want to take control of your own business destiny, be strategic and really work collaboratively with a partner to find the right opportunities and create solutions together. It's a rare chance to be an equal intellectual partner with your services firm and in fact potentially for the provider to learn from you as your team researches opportunities and bring in the provider to help test some of those opportunities.
Find great storytellers. It's really important to understand the technical aspects of blockchain, of course. You'll have an easier time finding technical skills than you will finding people who can really dream with you and tell you stories of how blockchain can change the world. This isn't just about looking for strategists, it's about looking for providers who can clearly communicate a vision for what's possible, so you in turn have an easier time digesting the different scenarios and selecting the right ones to move forward on to the proof-of-concept stage.
Put more emphasis on service providers' partnerships than usual. Spend more time understanding what criteria the providers are using to evaluate the technology vendors than you would normally, since this deep dive is going to be more important for you than in other more mature areas.
Focus on service providers' abilities to work in agile development environments. Yes, I know, you're likely not even close to building anything right now. But keep in mind that you're looking to find someone to co-create with you and that requires the ability to be iterative and flexible while still not losing sight of the original goals. Providers who have more rigid engagement methodologies will put more pressure on you to define your requirements probably even before you really know what those requirements are. So look for a player that has strong agile skills since those skills will transfer well to your blockchain exploration.
In the meantime, here's a link to the full HfS Research Emerging Blockchain Services Blueprint Guide, with definitions and descriptions of the current activity (particularly in BFSI) and how service providers are approaching this inevitably integral part of the future fabric of any industry.
Posted in : Financial Services Sourcing Strategies, Security and Risk