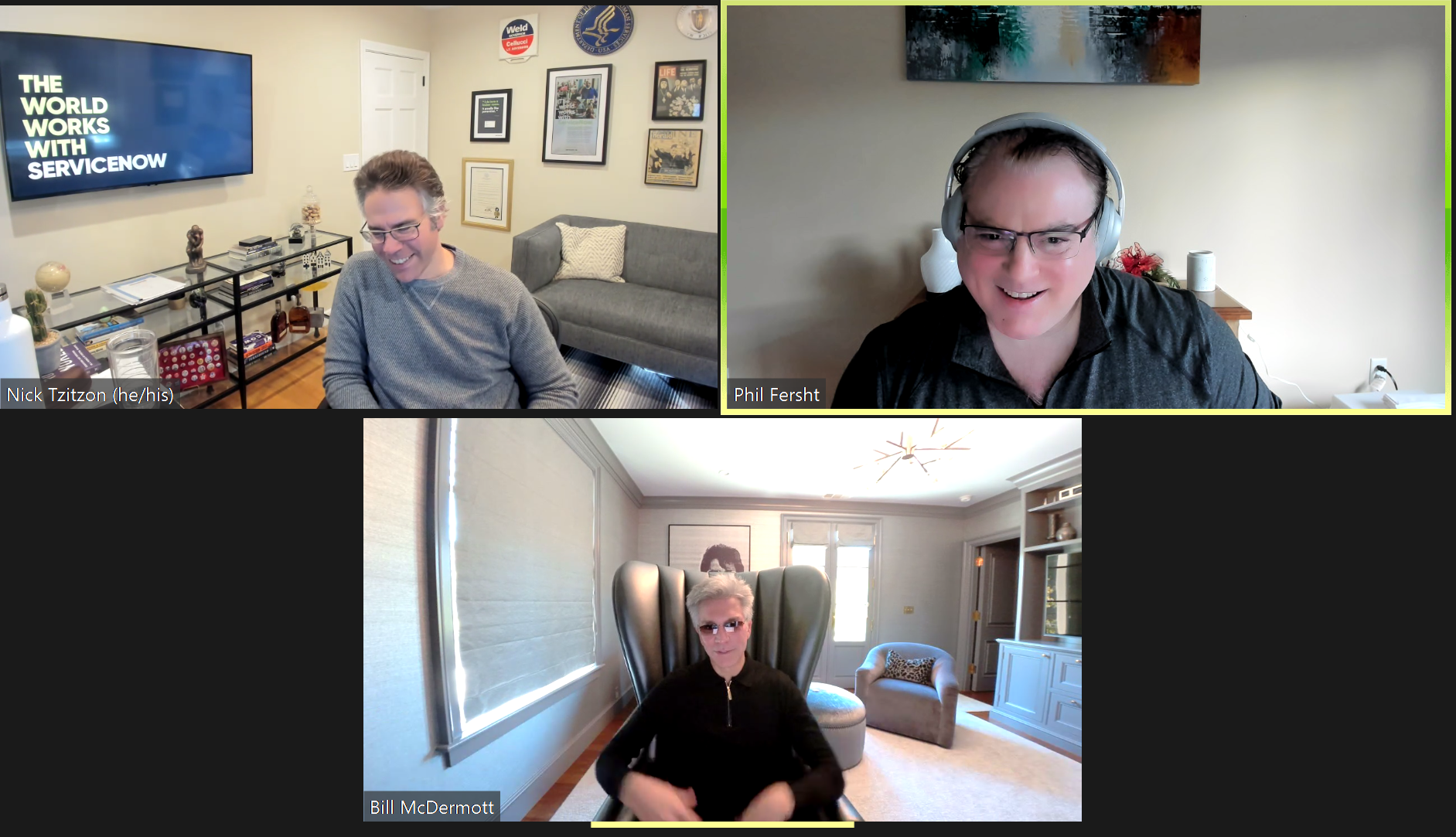 If there's one voice moving tech markets more than most these days it's ServiceNow CEO Bill McDermott. After a decade at the helm of SAP, where he articulated the firm's vision to embrace the cloud, he made the intriguing move to take the CEO role at ServiceNow, just a few months before the pandemic. Since then, he has more than doubled NOW's stock price, and the market cap has rocketed to an eye-watering $110 billion.
HFS has led the industry's coverage of the services market for automation, data and IT orchestration since we launched RPA onto an unsuspecting industry in 2012, and ServiceNow has propelled itself as the darling of the CTO in recent years as the industry's leading IT orchestration platform with a key focus on low-code and automation. What's also highly intriguing is the recent partnership with process intelligence platform Celonis where the orchestration darlings of both IT and finance are making a go of building an engine that finally combines process design and intelligence with IT orchestration and automation. So let's hear a bit more about what makes Bill tick, as we grabbed some time with him…
Phil Fersht, CEO and Chief Analyst, HFS Research: Bill, it's great to get some time with you. So, from a personal standpoint, was being a tech CEO something that you dreamed about when you finished up in college? Did you expect your career to go like this, to end up doing what you're doing now?
Bill McDermott, CEO, ServiceNow: Well, at that point in my life, you know, I was a teenage entrepreneur, running my own business, going to high school and college. And I loved running that business. But my dream, when I graduated from college, was to get a job with a corporation. And in that era, you know, getting a job with Xerox or IBM, that was probably the pinnacle. It might've been like getting a job at Google, or perhaps Apple, today. And I got the job at Xerox, which is quite a story, I tell it in my book Winners Dream. But, you know, at that time, I just wanted a shot. I wanted to be somebody in the world. And I got my first job at Xerox, knocking on cold doors in New York City for a living.
Now, I will tell you a story. When I left that day, from Long Island to New York City, I was reading the annual report about the then CEO, David Kearns, who was reinventing Xerox into something called Total Quality Management, which later became known as Six Sigma. They call it design thinking and innovation today. But I was so impressed with Kearns that, by the time I got to New York City, I had my sights set on being the next David Kearns, at least in my mind. So when everybody else was going for the sales job, I told them that my dream was to be the next David Kearns. So, you know, maybe to some extent I did have a spark of that CEO dream inside me.
Phil: I remember TQM well, from when I just was starting out in the 90s, so that brings me back! I'd like to move to the Celonis partnership. How do you see this evolving, now you've had a chance to see each other up close? Is this what you expected? And where do you think it's going to take you?
Bill: Well, it kind of brings back memories of when I was CEO of SAP because I was the one that approved Celonis in the partner network of SAP, back in the day, and they were all about collaborating with ERP, and really bringing process innovation to the equation, with a company like SAP. And Celonis CEO Alex Rinke will tell you, what he enjoyed about working together back then is, he'd send me an email in December, and he'd be like, "Hey," you know, "Basti and I just got a deal with such-and-such," and within a few minutes he'd get a, "Congratulations," and, "Let's go get another one," note from me. So we kind of got on very well.
And then, when I came here, I recognized the idea of business process innovation, as a big elixir to the whole platform automation concept. So the reason why it works is Celonis does the x-ray of what's broken, and then that immediately gets activated in the workflow automation platform of ServiceNow. So we can rethink the way business is being done in a hyper-automation context. And that, to me…it's really special.
So we're partnering at the engineering level, at the go-to-market level, and obviously at the executive level. And what's interesting – and you can check this, Phil, and I want you to – Alex's note to me was congratulating me on the deal that we just got together in the marketplace. So what I find quite interesting, as much as things change, some things do stay the same.
Phil: [Laughs]. That's great. Is the tech industry very different today than it was two years ago? And will it be different again in another two years?
Bill: Yes, and yes. I think one of the things that is only now gaining full understanding and recognition is that the 20th Century architectures, some were on premise, some were first-generation SaaS, they cannot keep pace with an ever-changing digital world. And I believe that this hyper-automation concept is going to play out in IT, it'll play out in the employee experience, the way you service the customer, and obviously in the low-code revolution that's taking place.
So I believe that hyper-automation platforms like ServiceNow, and I believe ServiceNow specifically, will be the control tower for digital transformation. And that's not at anybody's expense. Nobody has to lose for us to win. But I think companies are now realizing, "Hey, if I want to keep my operation secure," "Hey, if I want to give my employees a great experience and win the talent war," "Hey, if I want to go direct to consumer, and rethink the way I relate to my customers and predict their next needs," or "I want to build the applications of the future, but I want to do it in minutes or days, not months and years," you're going to need a platform like ServiceNow.
"I believe ServiceNow specifically, will be the control tower for digital transformation. And that's not at anybody's expense. Nobody has to lose for us to win."
So where do I think it goes in a few years? I think the platforms that are consumer-grade, like ServiceNow, become even smarter, even more predictive, and even more agile, to deal with the world's biggest challenges. I've always said that the world's biggest challenges are the world's biggest opportunities.
So you say, "Well, give me an example." Think about hyperinflation. The greatest combat tool for hyperinflation is digital transformation. It'll be $10.7 trillion invested in digital transformation, in the next few years. Platforms like ServiceNow can be revolutionary. If you think about an environment where the consumer isn't going to come to you anymore, and you have to go to the consumer, you now have a chance to create new channels of innovation. It doesn't mean the old ones are completely gone, but it does mean frictionless business is going to replace everything. And a lot of that is because companies have to do more with less, inflation, interest rates, supply chain dislocations, moving from global, to regional, to local, all these transformations will have to be platform-driven, and the smarter platforms will play out in the metaverse, they'll play out in 3.0, and obviously, the enterprise participants, if they're not consumer-grade level, they will lose, and they will lose fast.
So that's what I see in a couple of years.
Phil: Is there anything from your decade-leading SAP that's helped you at ServiceNow, Bill?
Bill: Everything that I did for a decade at SAP has helped me at ServiceNow, Phil. I have very high respect for my experience there, and all 100,000 of my friends at SAP. I loved every minute of it. We were a truly global company, and that's the way I ran it, that's the way we had the strategy, and that's the way we evolved the company into the cloud, and many other things. So I learned so much, and I'm grateful for my experiences. But I also learned, and what I already knew, going into SAP, that it's all about people, and if you can lead people, you can do a lot. And I have felt, my whole life, that the art of leadership is developing followership, and the bigger the company, the better I like it, because that's the more lives that you can touch, and the more followers you can gain, to achieve great missions. So it's been an honor of a lifetime having jobs like these. I'm the luckiest guy. No, I really am.
"Companies have to do more with less, inflation, interest rates, supply chain dislocations, moving from global, to regional, to local, all these transformations will have to be platform-driven, and the smarter platforms will play out in the metaverse, they'll play out in 3.0, and obviously, the enterprise participants, if they're not consumer-grade level, they will lose, and they will lose fast."
And, Phil, before you go, just real quick, you know us well. Is there anything you can share about where you think we are?
Phil: Sure, Bill. I think this whole push around workflow platforms and automation is absolutely the right place to go. And we are in the biggest talent crunch we have ever experienced. This is a long-term thing that we're going through, this is three, four, five years in the making. So creating platforms that can enable the automated business is where things are shifting.
But being able to bridge, I think, the divide between technology brilliance and process redesign is the key. And if you can get into that, if you can bridge that gap, as an orchestration engine, you're going to be the envy of the industry. I think there are still some ways to go, but I think the partnership with Celonis is really fascinating. The mindshare that you've built, in the last two, three years, in particular, has been very, very strong, and now the ability to build cross-process platforms is the holy grail. So it feels like you're getting there.
Bill: Thank you very much, Phil. That's great insight. You know, I start my days very early in the morning, and I end them with Asia at night, from California, and I can tell you, there isn't a single CEO conversation, including many that I've had today, that doesn't always start with this whole idea of IT has become the business strategy, because these companies have to be secure. They're very concerned about the environment that they're operating in, for all the reasons that you know. They have to service the business. Because of this talent war, the employee experience, from recruiting and hiring, onboarding, training, managing, all the services for the employees, at a consumer-grade level, is on everyone's mind, because the greatest asset you have, if they walk out the door tomorrow, it doesn't really do you a lot of good to have big buildings. Right?
Phil: Yeah of course…
Bill: And, you know, it's so funny, Phil, we had 97 CEOs from around the world at the event Alex was at. The direct-to-consumer revolution, and how you can predict experiences, and really get the Net Promoter Score, and the whole idea of customer loyalty, end-to-end digital, is hitting a complete breakneck speed now. And, you know, these 20th Century architectures, they weren't designed for that, so we're very fortunate to have a clean sheet, 21st Century design.
I just got off the phone with a bank that's modernizing 5,000 applications, and I said, "Well, you might want to think about low-code because you'll never get there any other way." And then we talked about the next steps on the Now Platform, that they didn't even know we did that. So part of what our brand is driving is: "The world works with ServiceNow," which describes the bandwidth of what we can do in the global economy, by geo, by industry, by persona, to fundamentally simplify the complexity that's been built over a half a century, and give people the consumer-grade experience across the enterprise.
Phil: Well, that's brilliant. Thank you very much, Bill. I appreciate the time and it was nice to meet you. I know our readers will love your insights!
Posted in : Digital Transformation, OneOffice, SaaS, PaaS, IaaS and BPaaS