Thanks to all of you who took the time to complete our recent poll of the financial crisis and its impact on the outsourcing strategies of financial institutions.  Below is a snippet of the findings: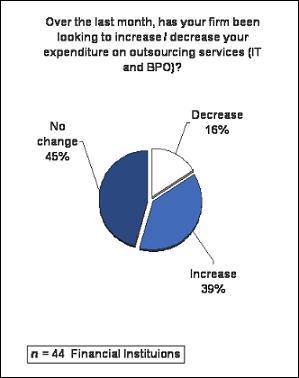 * Only 16% of financial institutions surveyed have actively sought to pull-back their outsourcing expenditure plans, while 39% are now looking to increase expenditure in light of recent events

* 45% have not made any changes to their planned outsourcing expenditure on ITO and BPO services
When we delve deeper into the data, it's the major US banks which are clearly the most aggressive with ramping-up their plans to pursue outsourcing strategies.  The main service-lines where they are focusing are banking-specific BPO services, application outsourcing, IT infrastructure outsourcing and Finance and accounting BPO.  Insurance companies also stated a strong focus on adopting insurance-specific BPO services in a 6-12 month period.
Service lines not being so aggressively pursued are primarily HR outsourcing and IT staff augmentation projects.  More thoughts to follow. 
Many thanks to the folks at Global Services Media for their help in sending the survey to its readership.
Posted in : Business Process Outsourcing (BPO), Finance and Accounting, HR Outsourcing, IT Outsourcing / IT Services