After the unprecedented success of our inaugural Future of Operations in the Robotic Age (FORA) Council in Chicago last week, we're thrilled to announce esteemed strategist, product entrepreneur and analyst Azeem Azhar will keynote our next FORA council session in London 7th December at the Andaz Hotel.
Azeem has spoken for TV and radio on BBC, CNN, Sky, among others, lectured at Harvard and London Business School, and writes a column for the Financial Times. Azeem has taken the stage at major tech conferences, including TechCrunch, The Europas, DLD Conference, WHU Founders Conference, Nordic.ai. At the HfS FORA Council, he'll deliver his Exponential View on the impact of artificial intelligence on global business and how our near future is shaping up as we ride this disruptive wave. He'll also stick around to engage with the council members and co-lead our AI breakout session,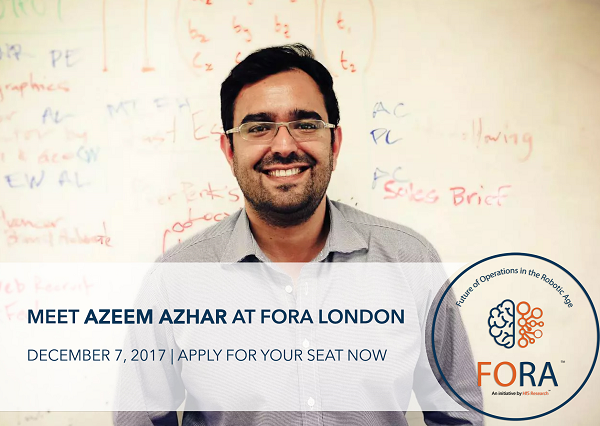 I cannot wait to unveil the full FORA agenda that spans the leading minds and stakeholders across the worlds of RPA, AI, operations services very soon… stay tuned folks, but this will be our most explosive summit yet.
Don't forget to apply for your seat, as this will fill up very fast… be there or be eliminated!
Cheers,
Posted in : cognitive, Robotic Process Automation