We've known each other for a while, haven't we? You've seen us evolve from a blog to a research analyst firm over the last four years. Now we're taking the next step in our evolution and launching our official company website for HfS Research (gasp): HfSResearch.com
Don't worry, Horses for Sources will remain right here (and with these HuffPo multiples, it's going nowhere for a while!), but we've created a spiffy new home for our research.  A special thanks to our marketing chappy, Mark Reed-Edwards and our developer/designer Melanie for burning the late hours these past few weeks.  Over to you, Mark, to explain more…
We've created an entirely new website for our research content. HfSResearch.com, featuring our new logo (which you may have already seen here and there), went up quietly last week. After working out a few of the bugs you expect (and get!) with a new website, I want you to rush over there right after reading this post. First, though, let me tell you a bit about the site.
The homepage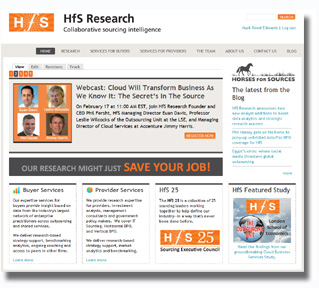 From the homepage, you'll be able to access the latest research from HfS, as well as other hot topics, including the latest Horses for Sources blog posts and featured studies, such as the Cloud Business Services study we conducted with the Outsourcing Unit of the London School of Economics.
You'll also get an overview of our research services for buyers and providers and links to our rich archive of published research, which we encourage you to browse. And that brings us to that section of the site.
The Research page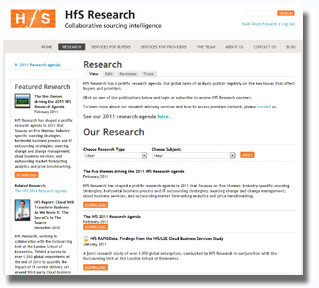 On the Research page, you'll see the wealth of work we've done. have the ability to browse the research type, and the subject area.
We've got you covered on the following subject areas: Benchmarking, Business Process Outsourcing (BPO), Cloud Business Services, Deal Advice, Europe, Middle East & Africa, European Strategies, F&A BPO, Financial Services Sourcing Strategies, Governance Government and Politics, Healthcare/Pharma Outsourcing, High Tech, HR Outsourcing, HR Strategy, Innovation, IT Outsourcing (ITO), IT Services, Knowledge Process Outsourcing/Analytics, Latin America, Legal Process Outsourcing (LPO), Manufacturing and Retail Sourcing Strategies, Media & Entertainment, Mergers and Acquisitions, Multisourcing, Negotiations, Procurement and Supply Chain Sourcing, Service Provider Coverage, Social Media, Software-as-a-Service (SaaS), Sourcing Change Management, State of the Industry, and Utilites and Energy.
Review our Research Agenda, have a look around and tell us what you think.
The rest of the site
The pages that cover our services for buyers and providers give you an overview of how we're helping our clients navigate the sourcing industry. You'll also be able to read more about the HfS 25, our exclusive Sourcing Executive Council. Plus, you'll get a look at the handsome global team we've assembled, and learn a little bit more about HfS and what makes us tick.
If you are a member of this site, you should've gotten an email instructing you on how to set yourself up on the new site. If you didn't get that, drop us a line and we'll make sure you get sorted right away. I am thrilled to be able to share HfSResearch.com with you. We hope it will serve you well. Like everything on the web, it's a work in progress. We'll never really be done with it. But we do want your thoughts. So kick the tires and take the site for a spin. Then give us your feedback so we can continue to improve it.
So, what about the blog you've come to know and love?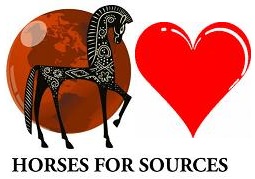 With AOL buying HuffPo for $315 million, we're not about to give up on our dream of world content dominance here on the Horses for Sources blog. And we know how much you rely on, and enjoy Horses for Sources. With Valentine's Day approaching, dare we say, you love it?
So, look for us to make the blog an even more compelling destination in the months to come. In the meantime, continue to enjoy Horses for Sources as well as HfSResearch.com.
Posted in : horses-for-sources-company-news, Social Networking