While we were discussing the confusing realities of the RPA hype at the HfS FORA Summit, we got a sneak preview of the interim data from the 2018 State of Operations and Outsourcing Study, conducted in conjunction with KPMG, where 250 interviews with Global 2000 operations leaders have now been completed.
We asked them where their investment priorities were currently lying when it comes to 2018 cost reduction: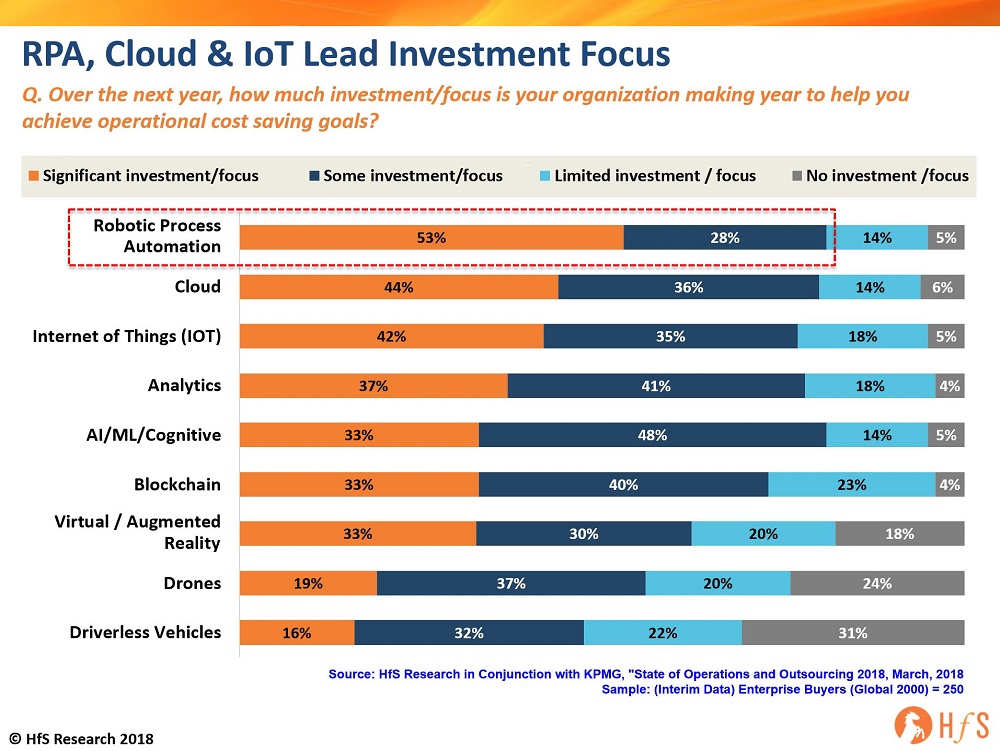 So it's abundantly clear all the hype about rampant adoption has been warranted, and we can hang our hats on our recent enterprise robotics software and services forecast, which now appears conservative, increasing with 47% growth to $1.46bn this year (click here for full forecast):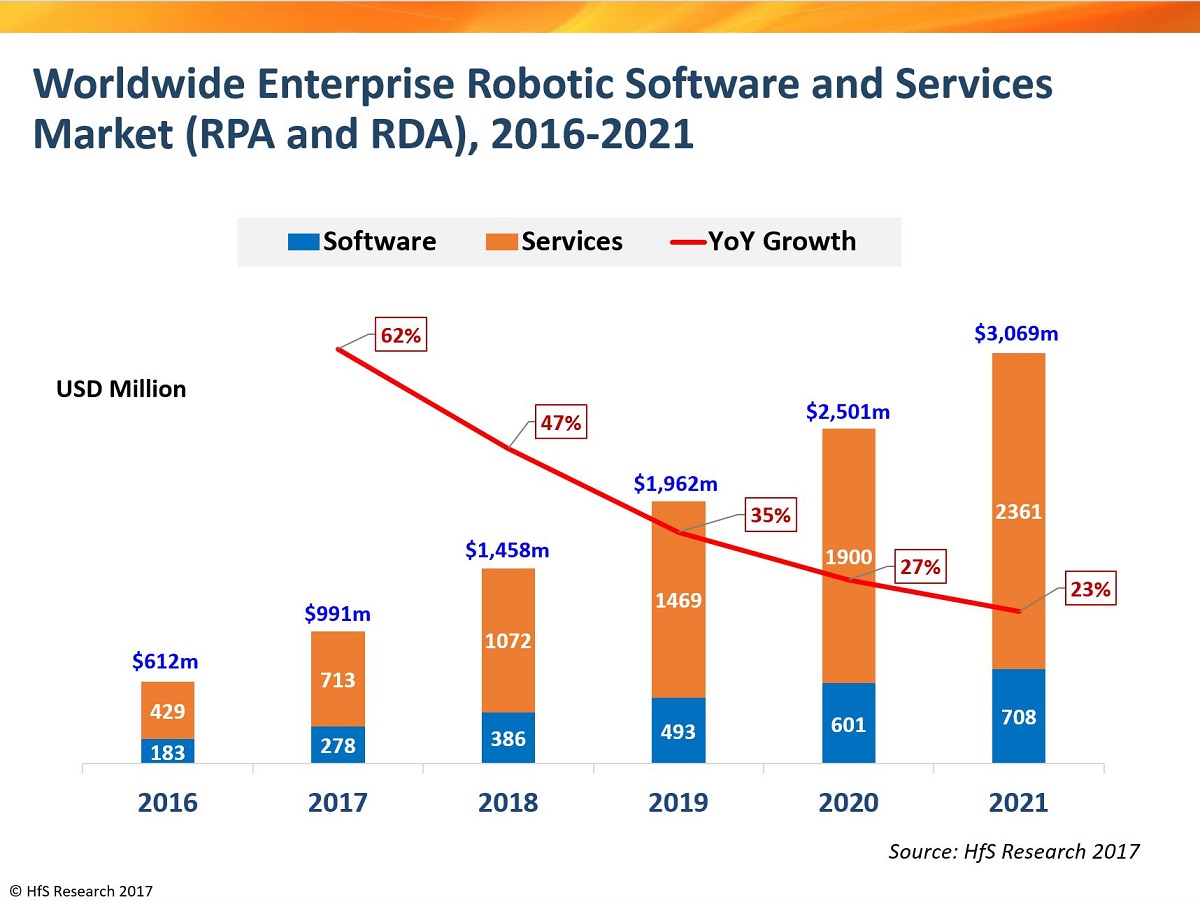 The Bottom-line: RPA has succeeded in being positioned as the "easiest silver bullet to target that next wave of cost take-out". Now let the real fun and games begin…
We have discussed, argued and deliberated the true value, impact and effective ways to run RPA software for many, many hours here on HfS… for over five and a half years. And you only need to read our recent work to conclude that "RPA often starts out like a teenage romance, with a lot of enthusiastic fumbling around that ends quickly, frequently leading to disappointment". And you can also read the RPA Bible, which preaches best and worst RPA practices to such an extent, you'll need to visit your local RPA Rabbi, Bhikkhu, Priest or Mullah to find your soul again.
The real issue, here, is that the majority of enterprises are taking the plunge and investing the dollars, with 81% actually taking RPA seriously, and 53% very seriously. So what's going to happen in a few months when those ambitious CIOs and CFOs ask to see real, tangible demonstrations of the resultant cost takeout? Can C-Suite leaders quickly learn to love metrics that are tied to growth, value and effectiveness, as opposed to a simple reduction in operating expenses to feel rewarded for those expensive bot licenses? Are operations leaders generally going to be ready to quantify the value effectively? Can they really convince their superiors that there is true value impact beyond merely offering up headcount elimination?
What's more, what if headcount reductions were promised to offset investments, and adopters have failed to free up the workload that can enable them? And can they reward the staff, who cooperated in the automation work, by getting them "retrained"? Is there really a plan? While the "one human to oversee every 10 bots" is becoming the latest robo-governance rule-of-thumb, how real is this? Or are we just all bull*****g ourselves about the future, and merely circling the hype to stay relevant today? Do we really care about our companies anymore, or are we more obsessed with adding big sexy initiatives to our CVs? Is this really anything different to yesteryear, where you needed to have an SAP rollout on your CV to be a credible CIO, or oversaw a 1000 FTE outsourcing deal to prove you were worth that $1.2m/ year GBS salary (yes, that's what some get…). In this world of #fakenews, does anything really matter anymore, when we can spin our realities into whatever shiny new thing is out there?
One thing is clear is that the back office needs to be submerged into the value end of the organization. There is little more headcount elimination to be had for most companies – sure, there are still many areas that have too many people working on too few valuable tasks, and technologies like RPA are terrific tools for breathing new life into legacy systems and creating digital process flows, where before there was only spaghetti code, manual workarounds and swamps of data polluting the corporate underbelly.
One thing is clear, it's very murky out there, and all we can really do is hatch a semi-realistic plan and try and stay on top of it as the future unravels in front of us…
Posted in : Robotic Process Automation