Yes, folks, that was one of the key takeaways one of the delegates pointed out at the FORA Summit in London last month, where a very mature conversation took place about the real future of operations in this lovely robotic age (download your full copy here).
This packed-out event was attended by 120 senior executives, the majority being senior buyside enterprise clients, joined by the CEOs of the leading automation solutions vendors, practice leaders across the leading service providers and global advisors. and the HfS analyst team. This was a chance to get beyond that deluge of wooden marketing and sales hype that is murdering our sanity… and get to the real nub of the of the issues plaguing a confused – and fumbling – industry.
Ten Big Takeaways from the Discussions
1. RPA needs to move beyond the teenage romance stage. One delegate pointed out that RPA often started out like a teenage romance – a lot of fumbling around with enthusiasm that ends quickly, often leading to disappointment. Past events have focused on the importance of change management to the process, however, our recent study of 400 automation buyers shows that a lack of clarity around the business case is the major barrier to RPA adoption (change management rears its head after all the fun and games of implementing the software):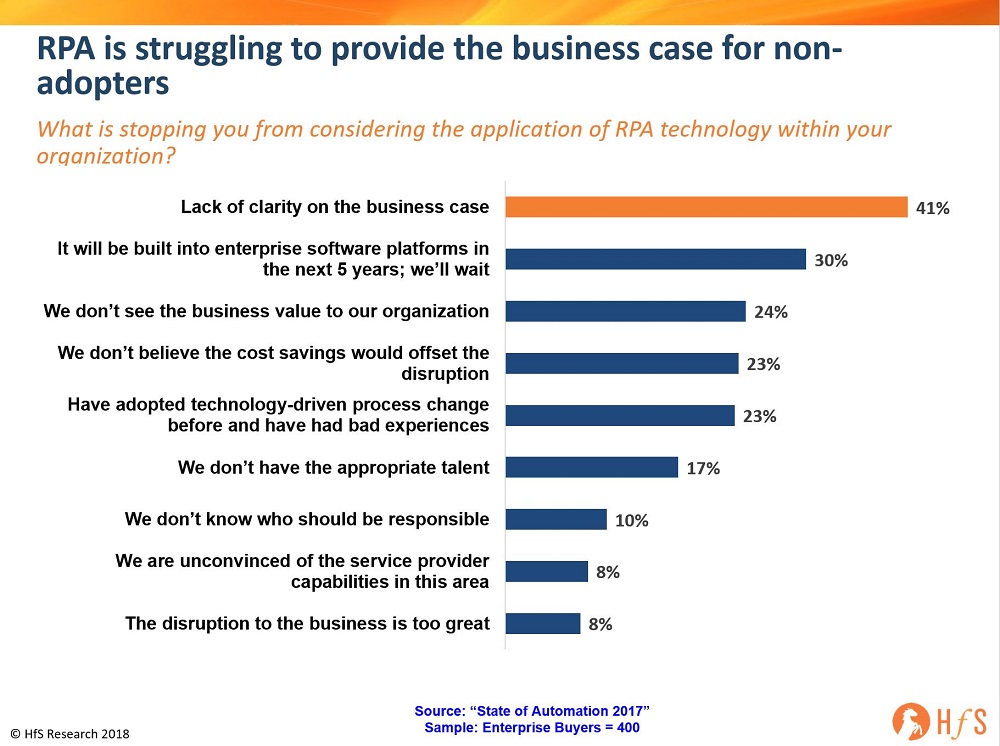 2. RPA hype is over and it's nearing time to retire the term in favor of Digital Operations and the emerging Digital Workforce. Hype needs to move from replacement to enablement. The benefit of automation and AI are not reducing the workforce, but enabling machine to human and human to machine interaction. Helping enterprises and governments make better decisions with data. Building a more virtuous cycle with automation, decision making and data.
3. The Pace of Change Cannot Be Slowed – If You Aren't Disrupting You Aren't Surviving. Companies that view disruption as an opportunity and are not complacent are the most successful. Paranoia about the world ahead is your friend – driving staff to innovate and disrupt. Technology in this circumstance is a tool not a solution. Our customer panel said that there are 'burning platforms' already being created and businesses are going to have to come to a decision at some point soon to adopt. The supplier panel were agreeing that automation is surviving for big businesses and large enterprises have less than five years to sort this out.
4. The biggest challenge for Automation is the shift to scale. It's not a technology problem, but an organizational change issue and how to achieve a broad set of outcomes at scale. Currently many implementations are sub-scale – tens or hundreds of bots instead of thousands they could potentially be.
5. Ultimately the world needs to shift its economic measure from effort to outcomes – where value is linked to achievement rather than the effort to achieve. The value of relationships need to be more interactive than ever, to make the shift towards outcome-based engagements, and away from effort-based.
6. The C-Suite is paranoid about the future and eager to make changes, while middle management is complacent and resistant to change. Culture is a major impediment to changing this dynamic. This requires a number of changes –change in the way companies operate, change in the skills that companies value, change in the incentives and the training that enterprises offer staff.
7. To adapt we need to constantly learn. This means better understanding of new technologies, better understanding of underlying processes and what can be improved. But ultimately it is about the best way to drive outcomes within the business.
8. We still need more use cases – especially as we look to Cognitive/ML/AI. As the hype shifts to higher forms of automation the need for use cases for all automation expands. There needs to be clearer understanding of where the value lies and where the process should begin. RPA is being passed over even when it offers 80% value for 20% cost and should be recognized as a valuable tool in an enterprise's arsenal.
9. The purpose of digital is to bring humans and technology together. One of the panellists made the comment that digital was not about specific technology or about a transformation. "Digital" is about the bringing together of humans and technology. It is the interface, closing the gap between the two.
10. Change management remains a vital component of automation strategies. The difficulty in delivering at scale is exacerbated by poor change management and planning. It's clear from our event in Chicago and in London that enterprise customers and service providers need to spend more time on planning to get automation to work effectively. One senior buyer representative said "change is not like flipping a light switch… more like a dimmer where it comes to full light over time and every new leaders is a new start." So there needs to be a clear outcome and commitment – one of the main topics of conversation during the event was around the need for better change management to ensure that nothing is left behind in the race to transform. With important advice that "change management is about educating people slowly toward what the world will look like tomorrow".
The Bottom line: Here are the anti-fumbling themes taking the conversation to New York this coming March…
To conclude the London summit and take the narrative onto our biggest and baddest FORA summit yet, the following four themes will steer the next phase of this industry mandate:
The Technology – a means, not an end. Data is the currency of transformation
Like with many new technologies, analysts, consultants and industry practitioners become obsessed with definitions and the demarcation between automation variants: in this case RDA, RPA, AI, Machine Learning, Cognitive, and all their permutations and combinations. Whilst this might be important for market sizing and positioning – many of the conversations in London reinforced the point that technology is a means, not an end – deemphasizing this definitional obsession. All these pieces of tech are tools, not solutions themselves. Without a coherent, end-to-end business transformation strategy, "dabbling" with automation technologies frequently does more harm than good, at best yielding only meagre results. Given the amount of potential disruption to legacy work practices businesses are facing, a deeper transformation strategy is required which will take automation at scale – "you need to go big," as one participant put it, to get real benefit from automation. But first, organizations must map out the path to understand where they're going. This brings with it another crucial part of the transformation recipe – data. Understanding the centrality of data to the digital enterprise – how to acquire, structure, interpret and act on it – is essential
The Value – shifting the metrics from effort to outcomes
Much of the discussion during the event focused on the outsourcing services industry, in part because that's where the prevailing labor-arbitrage business model is under existential threat, and in part because that's where automation technology is already being deployed at scale. During his keynote Phil Fersht observed that "Transactional outsourcing's death throws began in 2012" – dating its demise to the rapid emergence of RPA. However, there is a new, business model within reach. Providers have meaningful experience with automation technologies and valuable know-how, while buyers desperately need expert help with design and implementation. What's needed is a new value proposition – one that separates effort and time from cost and revenue, and shares risks and gains. "Clients will have to contribute value to their suppliers," as one participant put it, and providers will have to become more innovative and willing to expose their balance sheets – in short, being less transactional and more consultative.
The Talent – taking the robot out of the human and putting insights back into the process
As has been discussed at the FORA and HfS Summits in the past – and as noted by Professors Leslie Willcocks in London, automation is not about replacing humans, automation "takes the robot out of the human." Taking the mundane and process-centric tasks to free up employees to engage in more meaningful activities. Artificial Intelligence, on the other hand, augments and extends the human mind, empowering humans to make more consequential decisions. Together, they fundamentally change human behavior and workplace management paradigms. In the digital future, all employees will need skills in data analysis and interpretation, and middle managers in particular will need to be able to connect the work they supervise with the outcomes the business requires. Both must be granted what one participant called "permission to change" the way they have traditionally operated, and business must invest to equip them with new skills to succeed.
The Change Imperative – the way operations support the business itself needs to be redesigned
There is a growing awareness that we are at a step-change – a discontinuity – in business history. The challenge presented by digital and automation technologies can only be met successfully with a commitment to transformational change; incremental, tactical approaches will only yield limited results and risk failure. As never before, senior executives in every industry face existential decisions about the future of their enterprises, and will need to "make themselves uncomfortable," as one participant put it – to re-imagine their businesses based on the centrality of data and digital relationships (see Technology above). They will need to shed the constraints of the "as is" and articulate the journey to the "to be." Success will be measured not on beating last quarter's results but on the ability to see and grasp the scale of change required and create a viable and compelling digital vision for what one participant called the "journey to improvement."
HfS Subscribers can click here to download their complimentary copy of the London FOR A Mandate "Arise the Digital Middle Manager!"
Posted in : Robotic Process Automation