We've now seen three pretty small software firms demonstrate 20x valuations… Blue Prism went public on the London Stock Excheng, UiPath received $150m in series B funding and Automation Anywhere has now announced $250 in series A funding.  So it's pretty clear there are three established leaders at the front of the RPA market and investors are convinced that RPA is the start of something much bigger for enterprises. Not only that, it's becoming pretty clear that the barriers to entry are high, and we're unlikely to see new players bulldoze their way into this space in the foreseeable future. So why is this?
RPA is kick-starting the true digital journey for many enterprises by helping create a digital process baseline
People love to espouse that RPA has quickly become commodotized and we'll barely be talking about it in another year, when we all suddenly become experts so good at building algorithms, we can actually train systems to build their own algorithms on the fly. Suddenly, RPA will be some pervasive capability that is so devoid of value, it will disappear somewhere into insignificance. Utter garbage: anyone who's got deep into RPA and tried to incorporate it into processes knows immediately that this type of thinking is naive, and likely coming from someone with no experience of the real world outside of their ivory tower. Firstly, RPA and RDA are not apps you sell to IT people to "rollout", they are low-code solutions, designed for business operators to replicate, fix and digitize their manual processes, or scrape "static" data from screens to integrate into a dynamic workflows. And secondly, "low-code" does not mean "no code".  Talk to anyone with RPA battle-scars and they will tell you about the amount of code customization that was needed in certain areas. 
Digital today is all about an enterprise being able to respond to the needs of its clients as an when those needs happen. Today's RPA and RDA provides integral building blocks that digitizes processes to enable businesses to process the data they need to have business operations support customer needs in real-time. Sure, they may simply be performing dumb tasks, such as running process workflows in recording loops, or scraping data from screens into automated scripts.
The commodization of RPA breeds familiarity – and familiarity breeds innovation.  The market is already established
Commoditization is good for bots, but remember that most enterprise folks have had to train to use the products and we already have very loyal followings for AA, Blue Prism and UiPath.  The tech needs to be simple, low-code and easy to install, scalable and manageable.  Noone wants highly customized solutions these days, so please do not confuse the devaluation of commoditization with the value of familiarization.  You think Workday and Salesforce are not "commodity" apps?  They are successful because they have crushed their markets through effective channel relationships, the creation of cult-like followings and years of building familiarity with their customers.  I've even heard of HR people threatening to quit their jobs if their firms refused to invest in Workday – it's an important part of their entire career path.  You think you can't find quality alternatives to Saleforce, such as ZoHo and Hubspot that are lower cost and even better in some areas, or likewise for Workday with SAP Successfactors and Ultimate? I predict we are already settling on AA, Blue Prism and UiPath as the RPA platforms of choice, as so many business users have already been through the pain barrier of training to understand the whole RPA paradigm.  We'll actually see more "micro-solution" firms, such as Thoughtonomy, which is building a service layer over Blue Prim and reselling that solution with positive results.  Another example is Antworks, which is impressing a lot of people with its data ingestion capabilities and integration with automation needs.
AA, Blue Prism and UiPath already have 700-1000 customers each (depending on what you believe) and have energized many new careers for many people – it can take a couple of years for non-IT people to really learn these products (and many experiment with at least two of them).  This market is only going to get stronger and more robust over the next three years – and beyond that, it's really all science fiction as we observe the speed of development and macro changes to our business environments. Like with all other technology-driven markets where the key stakeholder is the business executive, once they are familiar with a platform, getting them to retrain on something else is a massive effort.  Remember WorkFusion's attempts to offer "free RPA"?  People don't want something just because it's cheap – or even free, they want some skin in the game. 
The Bottom-line: Today's "Dumb RPA" provides a baseline for the development of intelligent bots in the future
You have to start somewhere, and for enterprises fixing their manual process messes, these three tools have provided the answer, with 70% of Global 2000 clients now expressing satisfaction, according to our new 2018 State of Operations study results.  However, if these firms rest on their laurels, this market dominance will be short lived.  Once the digital baseline is created, enterprises need to create more intelligent bots to perform more sophisticated tasks than repetitive data and process loops. Basic digital is about responding to clients as those needs occur, while true OneOffice is where enterprises need to anticipate customer needs before they happen (see below).  This means having unattended and attended interactions with data sources both inside and outside of the enterprise, such as macroeconomic data, compliance issues, competitive intel, geopolitcal issues, supply chain issues etc.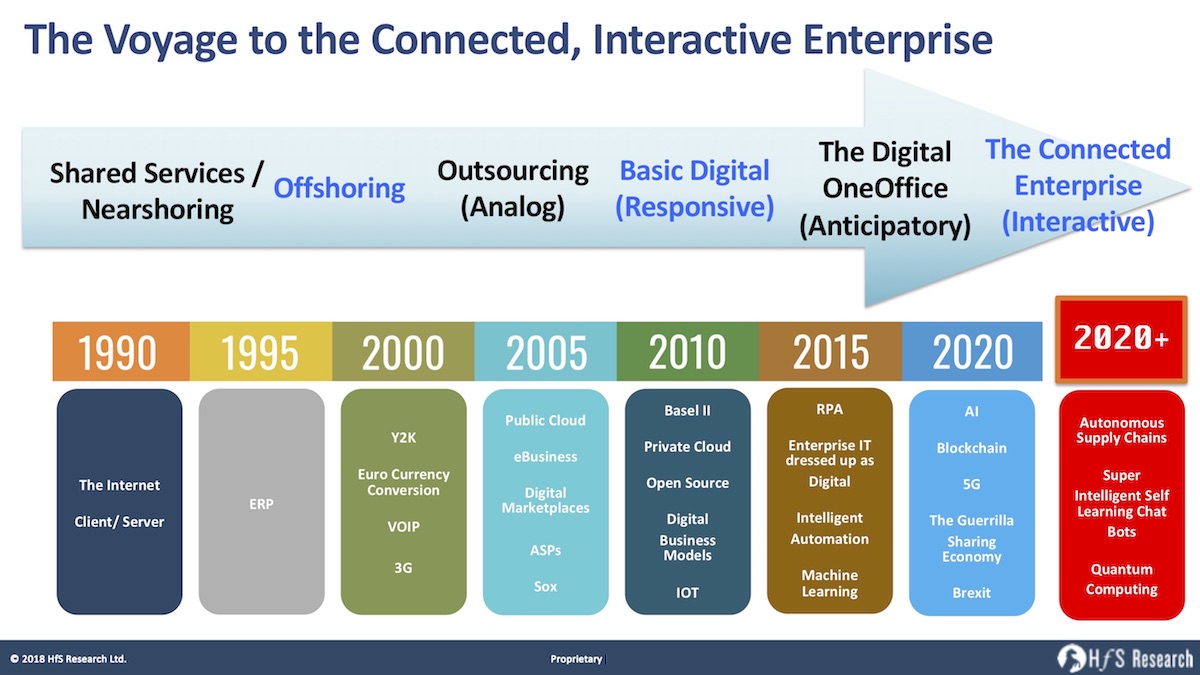 So we have some clarity for now with three dominant solutions, and enterprises can invest more in learning these tools with more certainty and peace of mind. Some stability, after so much change in the world of business operations, is more than welcome.  Now let's hope these firms will wisely invest in taking their products into the world of intelligent bots, and not splurge all the newfound capital on yet more sales and marketing. 
Posted in : intelligent-automation, Robotic Process Automation