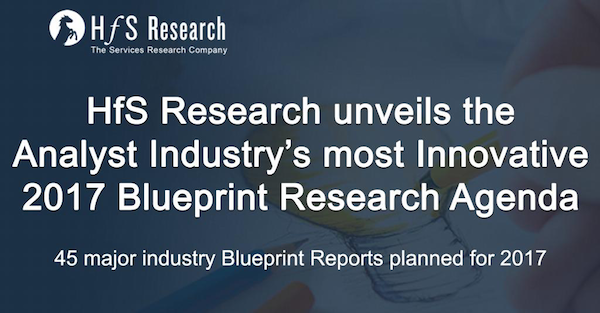 Fed up with the same old "digital transformation trends" about to turn our world upside down… based purely on those crusty old Uber and AirBnb examples?  Getting jaded by the tired old commentary about 20-year-old automation technology suddenly replacing labor… without any practical advice how to manage it all?  
And that annoying old yarn about IoT turning the whole world into some massive interconnected computer without aligning it to real business solutions, beyond making your coffee maker more intelligent? Oh… and the hype about Blockchain disrupting the whole world of money and commerce, without any sort of sensible roadmap on how the technology is evolving, and how enterprise-ready this stuff is (or ever will) become.
Are you just simply comatosed by analysts talking in riddles about generic, bland mush you've heard a zillion times already?  
The 2017 HfS Research Agenda:  "Making it Real"
Well, people, your agony is over as the analyst team at HfS is charged with "making it real"… where we're talking with hundreds of enterprises about how they are addressing all these changes to their world.  Technology is moving at warp speed and people, simply, are not. Our 2017 plan is to address this gap between innovation and reality and help our clients really feel this stuff… really kick those tyres to sample how it can be done and how it shouldn't be done.  
We won't be hyping up automation and digital technology as the critical 'disruptors' of business operations – because they are already are past being disruptive – they are already here. Intelligent automation and digital technologies have become the fabric of operations for modern enterprises, immersed in new generation services and platforms. Instead, we are already talking about OneOffice, where integrated business operations have the digital prowess to enable the enterprise to meet customer demands – as and when those demands occur.
Our 2017 Blueprint Reports address all aspects of achieving the OneOffice endgame: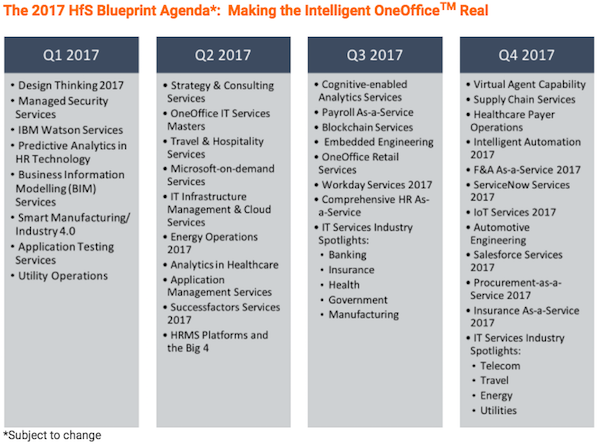 Why is the 2017 HfS Research Agenda Unique?
Since the introduction of the HfS Blueprint in 2013, HfS has published 44 of these highly influential reference guides (see link) for enterprise buyers—to assist in selecting the best service provider for their needs. In that time, HfS has expanded from Blueprints covering core BPO markets such as F&A, Contact Centers, Procurement and Healthcare Payer to a broad range of markets, including IT and Digital Services, IoT, SaaS Implementation, Security and Engineering Services. In 2016, HfS introduced our first ever Blueprints on Design Thinking, Energy Operations, Block Chain, Pharma BPO, ServiceNow services, SuccessFactors services and Mortgage-as-a-Service.
For 2017, HfS is focused on researching the experiences, dynamics, intentions, challenges and opportunities of thousands of enterprises in their quest to align their operations with the rapidly changing needs of their clients. This will include interviewing 300 of the Global 2000 enterprises and several thousand quantitative interviews on a rolling basis through the year with the HfS global community.  
Our Blueprint Reports focus on all key aspects of IT services and strategy, business operations and BPO, cognitive automation and the core industry-specific dynamics, namely banking, insurance, energy, utilities, manufacturing, healthcare, life sciences, travel and retail industries. HfS isn't only focusing on the service provider performances within each industry. We are also helping clients take an "outside-in" approach to reaching a OneOfficeTM endgame, with a second annual Blueprint report on Design Thinking capabilities and a unique analysis of the deployment and enablement of cognitive virtual agents in the workplace.
This is an ambitious research agenda but something that we believe will provide real, unique, and substantial value for the industry in our effort to help enable more collaborative engagements for delivering business outcomes.
HfS subscribers can download their copy of the 2017 HfS Blueprint Agenda here.
If you have any questions on the HfS Blueprint Methodology or our 2017 Research Agenda, please reach out via email to [email protected].
Posted in : Blockchain, Business Process Outsourcing (BPO), IT Outsourcing / IT Services, service-provider-analysis