Perhaps the best example of the evolving As-a-Service delivery model that immerses all the value levers of global delivery; namely offshore talent, cognitive automation tools, analytics and the digital customer experience, can be found in the burgeoning mortgage processing industry. With banks going all out to sell highly competitive mortgages at record low interest rates, the onus to manage the whole process both efficiently and intelligently, while battling all the regulatory demons, has never been so great.
Two years after our inaugural Blueprint in Mortgage BPO Services, we took a fresh look at this industry… here's announcing the findings of the HfS 2016 Mortgage As-a-Service Blueprint, led by HfS banking analyst, Reetika Joshi.
The concept of delivering mortgage As-a-Service, using plug and play digital business services is still in its infancy. We're not quite at "push button, get mortgage" as an industry – and the verdict is out on whether this is the right message to send for a lending environment that is still rebuilding itself, seven years after the 2008 housing crash. How do you do this without raising eyebrows? You'll have to ask Quicken Loans, as they learn from the backlash of their Super Bowl campaign with that very slogan.
Reetika, how do you view the 2016 Service Provider Landscape?
Our HfS Blueprint methodology assesses service providers based on two critical axes: Execution and Innovation. We gather data to support our analysis from client reference interviews, market interviews, RFI submissions and exhaustive service provider briefings.
In this Blueprint, we identified four As-a-Service Winners: Accenture, Cognizant, TCS and Wipro. These service providers have the strongest vision for As-a-Service delivery in the mortgage industry, and are driving collaborative engagements with clients to bring this vision to life. They are making significant investments in future capabilities in automation, technology and borrower experience to continue to increase the value over time.
The High Performers in this year's Blueprint are a highly competitive set of service providers: Genpact, Infosys, ISGN/Firstsource, Sutherland Global Services and WNS. They have high execution capabilities and are growing their client bases as a result of investments in future capabilities and innovation. These service providers have the pieces in place for As-a-Service delivery, and need to focus on consistently bringing these capabilities to clients and scaling up with broad, multi-client solutions. We expect them to challenge the Winner's Circle leaders in the next couple of years, with each building on unique strengths and assets in this vertical.
We see Unisys and Xerox as the Execution Powerhouses. These service providers are strong in operational excellence with ubiquitous technology platforms in their respective markets, and need to focus on value chain expansion and innovation in their services stack: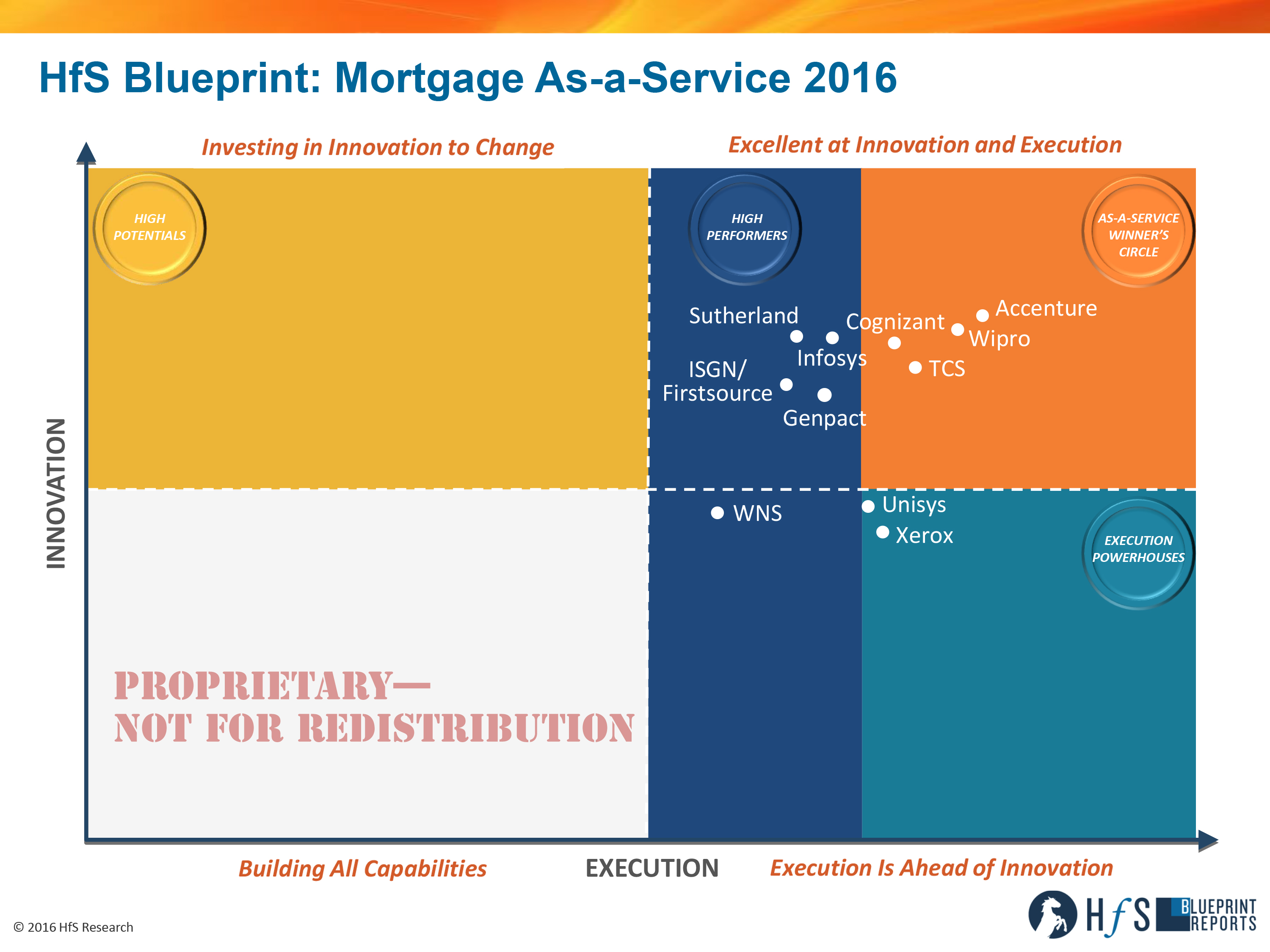 Why does mortgage needs to have a different approach and response to "digital disruption"?
Despite this sensitivity, other industry forces still march on; regulation, homebuyers and a new breed of disruptive fintech firms are steadily shifting the entire mortgage industry towards generally being more digitally enabled. Lenders have this big ask today: how to carefully balance their investments in new technologies, with changing consumer needs, volatile rate
Posted in: Financial Services Sourcing Strategies, HfS Blueprint Results