A smart business operation uses the right combination of talent and technology to drive desired business outcomes. Third party suppliers are crucial for that combination, and our new research shows an increasing focus on the relationships with suppliers to standardize contract management and governance, centralize management of strategic suppliers, recruit and engage talent that has relationship building and critical thinking skills, and better leverage self-service platforms and automation in procurement and supplier management.
The big emerging trends in SRM:

Based on our new research, including discussions at the HfS Summit, our annual Shared Services and Outsourcing survey with KPMG, and interviews with executives from financial services, healthcare, logistics, high tech and other industries, we've put together this picture of the "state of supplier and partner management" in the IT and business process services industry:
Ambitious procurement / sourcing leaders are positioning themselves as advisors to plug capability gaps – partnering with the business units to define strategy; coordinating across business units, IT, and legal; defining standards for governance (reinforced through templates and automation); using training to ensure the more distributed relationship management is active and following a framework.
Organizations are increasingly standardizing and centralizing business operations functions – often incorporating outsourcing in hybrid / global business services models. IT has been the first mover here, with business functions following – F&A, Procurement, and HR as well as industry specific support. We expect centralization and shared services to continue, with selective and targeted use of outsourcing (on and offshore) and RPA in a model many are calling "no-shore."
There is a similar move to centralize supplier/partner governance and contract management, often separate from the relationship management. Relationship management is more difficult to centralize, and typically happens when the suppliers are providing IT or BPO through a shared services unit. Once centralized, governance and contract management is increasingly automated; and relationship management gets more focus.
Exhibit 1: Top 3 Desired – and Hardest to Find – Capabilties for Business Operations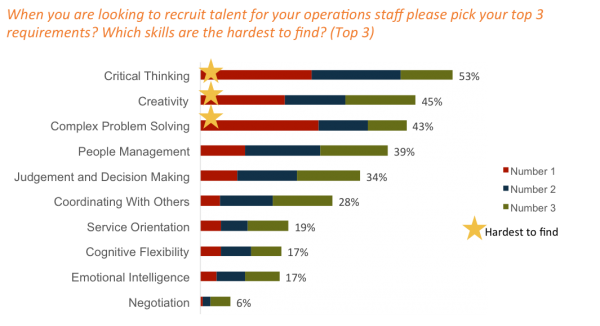 Source: HfS Research in Conjunction with KPMG, State of Business Operations 2017 N=454 Enterprise Buyers
Supplier management talent is increasingly oriented toward relationship building, decision-making, and analytical skills. Subject matter knowledge of the function is a basic capability that's needed; negotiation and contract management "can be taught." Executives are also increasingly interested in candidates with technical skills (or interest) in determining the right mix of talent and technology for managing optimal business results.
Procurement is setting the pace for evaluating and implementing robotic process automation and cloud-enabled platforms for more self-service. In our state of industry study, 57% of enterprises are in the process of evaluating/implementing RPA for procurement processes.
Across the board, we have found a move to consolidate and prioritize/tier suppliers for better negotiation capability, more effective and compliant oversight, and a more collaborative and engaged approach to partnering versus managing "off the side of the desk."
It doesn't matter what your operating model is if you don't have the right talent. The right talent will make the relationship with the supplier effective for the business.
The bottom line: There are three critical components to effective supplier management that stand out in our research
Alignment and tiering of suppliers with business objectives
Standardized and coordinated supplier relationship management and contract management and governance
The "right" talent to broker and manage relationships and results
In general, companies are on a journey to have a more strategic approach to supplier management and believe it will take a matter of years to get there because of the cultural shifts required. We explore these themes further in our recently published POV, "The Rise of Supplier Relationship Management," available for download (free with site registration).
Posted in : Procurement and Supply Chain, Robotic Process Automation, The As-a-Service Economy