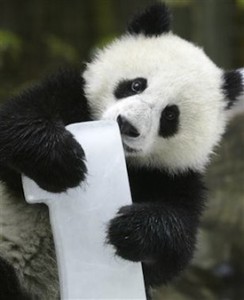 Yes, quite how this ramshackle outfit today celebrates its first birthday is quite beyond me. Exactly one year ago, we bravely declared we were a research company, with a bunch of friends, stringers and part-timers.
Today, we are a fully-loaded experienced research organization with depth and breadth of analyst talent across North America and Europe - with further expansion plans imminent.  Hell, decisions used to be so much easier when we had no money...
But seriously, all I can say is a big fat thank you for all your support, encouragement and belief in us as we've built something truly  game-changing in our industry - and one stat says it all:  One year ago we had 16,000 subscribers; today we just surpassed 50,000. One can only guess where we'll be in another 12 months.
Here's a shout out to a few of you who've played your part...
Amber Wagenknecht (Accenture): For the warning signs (and my ignoring them)
Anthony Calabrese: Just being a sourcing beast
Bill Kutik: Making me laugh - out loud
Bob Cecil and Lowell Williams (EquaTerra/KPMG): Being awesome to work with
Brian Robinson (HfS): From tenant to employee… a truly loyal chap: )
Bruce McCracken: Being there at the start
Chris Barney (Genpact): For Cardiff…
Chris Gattenio, Don Schulman, Bill Payne and MSR (IBM): Believing in us
David Poole and Carina Smith (Capgemini): Believing in us, oh and making the Magic Kingdom bearable
Dawn Evans (SIG): For your super confidence
Deb Kops (Sourcing Change & HfS): Sounding-board and under-rated marketeer
Dennis Howlett: Just being Dennis
Derek Sappenfield (PwC): For believing in us
Ed Nair (Global Services Media): Being a great supporter and simply a great guy
Emma Beaumont and Sarah Clayton (SSON): Making some super cardboard cutouts - and all the plugs during lift-off
Esteban Herrera (HfS): For raising our game
Euan Davis (HfS): For the blind leap of faith
Frank Casale (Outsourcing Institute): For finding a reason to call me everyday
Frank D'Souza (Cognizant): Being our first client
Google Apps: For a cheap, reliable IT platform
Graham Russell (Astrazeneca): The guaranteed entertainment
Jamie Snowdon (HfS): For choosing HfS to make his comeback
Jason Busch (SpendMatters & HfS): For showing how to run a small, feisty business
Jay Desai (Northern Trust): Just calling it how it is
Jeanne Achille (Devon Gp): Giving us a professional veneer (when we really needed one!)
John Hindle, Sarah Thomas, Shari Wenker, Mike Salvino and Kevin Campbell (Accenture): Believing in us from the start, oh and plenty of Pink Champagne and Formula 1
John Transier (Unilever): A great sport
Jolie Newman: Just being helpful
Jonty Woodhouse: For making us legal!
Lee Coulter (Acsension Health): Making me laugh - from the start
Mark Reed-Edwards (HfS): For putting up with me
Michelle Liukin (HfS): The invoice queen
Mike Atwood: Being there in the early days
Mum and Dad: For having complete confidence this would work
My wife: For putting up with all this cr*p
Peter Allen (CSC): Being such a great thinker
Pramod Bhasin, Tiger, Gianni Giacomelli and Bob Pryor (Genpact): Great contributors and supporters
Prof. Leslie Willcocks and Dr. Will Venters (at the London School of Economic): For flouting establishment and partnering with us
Ray Wang (Constellation): Fellow analyst rebel
Ritesh Idnani, Pranay Juyal and Wendy Shlensky (Infosys): Believing in us, and teaching us how to negotiate!
Roxanna Wall (UBS): For always believing in us
Simon Newton (Kimberly Clark): A great sport and a great guy
Stan Lepeak (EquaTerra/KPMG): Keeping the faith
Stephanie Overby (CIO Magazine):  For giving us media-cred
The Enterprise Irregulars: For providing a remarkable amount of entertainment and value
The old AMR team (now Gartner): Providing such a great platform for HfS - and not suing us!
The ValueNotes team: For being reliable
Tony Filippone (WellPoint): The vendor governor
TPI: Being good sports...I know I give you a hard time : )
Posted in: Absolutely Meaningless Comedy, HfS Research Company News