As we discussed in Part 1 of the digital marketing operations Blueprint blog, marketers are upping their spend and re-thinking the way they spend on services as a result of digital consumer needs. The market landscape for these services includes BPO/ITO providers, marketing technology companies, traditional agencies as well as a vast array of digital and niche agencies. This is a fast-evolving space that requires multiple players to come together and create an ecosystem for business changing solutions. Many buyer organizations (e.g., PepsiCo) have been very vocal about their dissatisfaction with the traditional agency model and are taking marketing work back in-house, or instead of consolidating providers they're distributing work to several specialty providers. The opportunity for BPO providers to disrupt in this space is increasing; while it is critical for BPO service providers to partner with agencies, which still have and will continue to have a prominent place in the ecosystem, there is much more opportunity for BPOs to provide strategic level work than in the past. In addition, technology has disrupted the way companies go to market. "Martech" has grown exponentially in the last few years, and managing an increasingly complex stack is the norm while companies struggle with the pace of change to manage these varied systems.
So traditional ad agencies have not kept pace with market changes and thus have opened up opportunities for consultancies and BPO organizations to enter the market in some unexpected ways. The part where BPO service providers play in this ecosystem is often in a paradigm referred to as a "de-coupling" strategy: separating the creative from the production. In this model, agencies set the big picture tone for the campaign but can't meet the needs for reduced cost and speed that BPO service providers can for services such as localization, translation, regulatory/compliance and re-imaging. The service provider takes the agency campaign assets and reworks them for specific markets, devices, etc.
Sample Content Production Engagement Model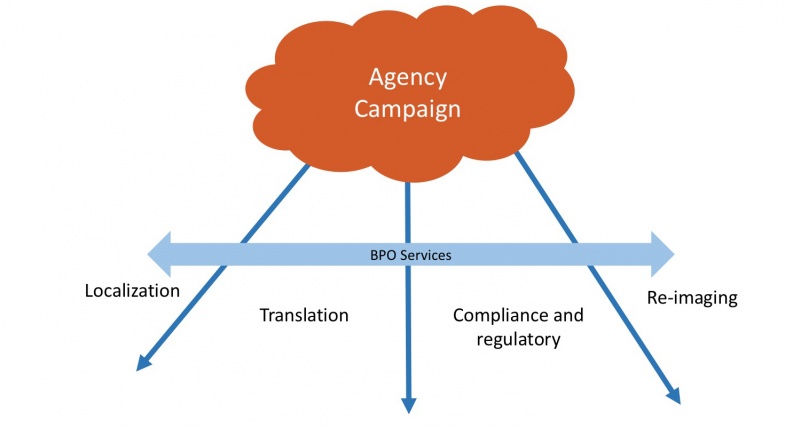 However, many of these services involve elements of creative design and require a blend of talent and automation to execute well. And services buyers are increasingly looking to providers to have more strategic capabilities, especially where the convergence of marketing, sales and customer service happens in customer experience design. Almost every services buyer we spoke to expressed an interest in more strategic, higher value services from their providers.
As in almost every market, buyers are increasingly looking to BPO service providers to get more innovative and hungry for their business. Most buyer references said their providers "do what I ask them to do well," but these same references admitted there is much potential in the future for handling more strategic services: and many service providers have the capability. Even larger enterprise buyers see potential in moving away from the arrogant and set-in-its-ways agency model and embracing services with a fresher-thinking provider. As one client reference commented: "When you go with a big agency, you're going to get their B team."
So how are service providers coming to the table?
Players with smaller practices, such as EXL and Tech Mahindra, have some interesting vertically focused offerings and have the advantage of being able to give clients lots of attention and thought leadership. Customer experience management-focused companies (i.e., HGS, Concentrix, Aegis, Revana Digital) have the advantage of knowing their end customer's requirements best through the connection of their contact center businesses. While these providers aren't known as a marketing brand for new logos, with the convergence of service and marketing can often sell bespoke or smaller campaigns with an interesting value proposition to customer experience focused stakeholders. The same goes for ITO focused providers (i.e., HCL, NTT DATA Services), where these providers have solid operations engagements elsewhere in the organization, can leverage the strength of those relationships in the growing digital marketing space.
Companies like Genpact, Infosys and TCS have approached digital marketing operations with a strong stance around automation and analytics. And clients seeking alternatives to the traditional agency model have enabled providers like Cognizant, Wipro and Accenture to excel at an overall vision for digital marketing operations– these providers are acquiring and integrating digital expertise– unlike the traditional agencies who buy up digital agencies and run them as separate entities without as much thought to leveraging the assets of each piece across the organization.
The Bottom-Line: In the rapidly changing marketing services landscape driven by the digital consumer, there is tremendous opportunity for service providers bringing their A team … and it's anyone's game
---
The HfS 2016 Digital Marketing Operations Blueprint covers market trends and direction as well as the analysis of 14 service providers: Accenture, Aegis, Cognizant, Concentrix, EXL, Genpact, HCL, HGS, Infosys, NTT DATA Services, Revana Digital, TCS, Tech Mahindra, Wipro. For more detail—including analyses and individual profiles of the service providers—click here to access and download the Blueprint.
Posted in : Business Process Outsourcing (BPO), Digital Transformation, HfS Blueprint Results