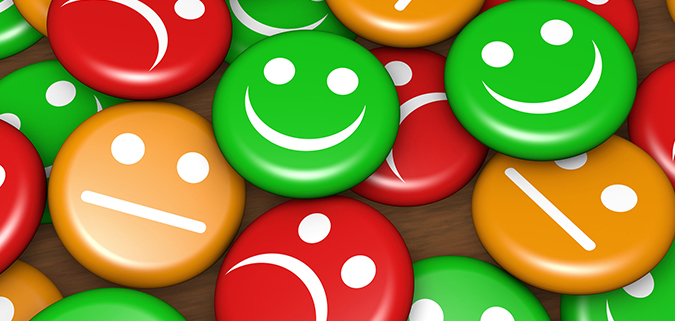 Everywhere I turn, service providers are talking about how they're going to enable services clients to delight end customers. There's nothing wrong with aspiring to delight customers; in fact it's an admirable goal. But let's take a step back and talk about what really matters when it comes to customer experience. Partly due to increased expectations set by our more digital world, customers want and expect things to be simple and easy. When I order an Uber or an Amazon package, it arrives at my door in the time predicted. Am I delighted? Not really. Am I really loyal customer who spends increasingly more money with these companies? Yes.
Full disclosure, we talk about delighting customers in our OneOffice concept of using a customer focus to align business operations. After all, in a customer-centric utopia, smiling, happy, loyal customers are the ultimate goal. But right now, I think it's time to talk more realistically and focus on the basics. As a customer, I want to get my package on time, my question answered simply and easily.
Here are some service provider promises in marketing materials out there now:
"Elegant creative designs that go beyond average usability to deliver individualized experiences that charm, delight and engage"
"Utilizing the science of data and a unique approach and focus on the art of the possible, (we are) leading the way in designing transformative customer experiences that delight and engage"
"Our vision is to make our customers experience the delight of their customers"
It all sounds wonderful, but let's get a bit more realistic. Think about the last time you as a customer felt really thrilled by the service you received.
We should take a good look at how we can start preventing bad customer experiences, which have a much greater potential to do business damage than great experiences do to have a positive impact. I recently participated in 4- literally 4- online chat conversations regarding an order that arrived damaged. None of the chats had record of the previous, or of the initial order. It was the most anti-omnichannel experience I've ever had. It seems everyone has one or more of these stories. For many companies, there's a lot of work to be done to improve basic customer service.
Take this as food for thought. Satmetrix, the company which owns NPS (net promoter score) benchmarks customer satisfaction annually, using Net Promoter Score (NPS) which reports that the industry with the highest NPS is retail, with a 58 average. That's the highest. The lowest is internet service providers at 2. The standard for "world class service"? 75. Even the top-rated customer service companies (i.e. USAA, Nordstrom, Apple) are hardly close.
Aspire to delight, but focus on the results that really matter.
Let's face it, as much as it's a cheerful concept and inherently the right thing to do, how does delightful customer service translate to business value? The business goals are to increase loyalty and repeat sales, and reduce churn in retail; lower admissions/re-admissions in hospitals and improve patient health in healthcare; reduce claims leakage in insurance, improve regulatory compliance in BFSI. So, the idea is you want to engage your consumers in order to impact these types of outcomes.
I do believe customer delight exists, and it's certainly relevant and valuable. But to try and put delight into some systematic, algorithmically programmed process is a waste of time if you don't have the right design and talent. So, yes, set everything up – connect the front and back end systems so that employees have the information they need – set up digital channels for customers to communicate and then, the most important piece– hire the right people who are empowered to act on it. Make the goal to simplify communication and the ease of doing business to generate loyalty with your customers.
Bottom line: Make life simpler for your customers, and loyalty (and hopefully delight!) will follow
As I said about forgetting omnichannel when your basic customer service sucks, make the customer experience goals about personalizing, consistency and simplicity. If delight follows, fantastic! Look to pivot operations toward OneOffice to become nimbler, more intelligent digital organizations that deliver on customer needs. Now that would be delightful.
Posted in : CRM and Marketing, customer-experience-management, OneOffice