Unless your contact center clients are all blunt Bostonians like me, they may not be in your face about one thing they need that you're not giving them – customer experience delight beyond the standard service delivery. Maybe customer service leaders get so harassed on the job, they just hate to complain themselves when their expectations fall short!
As a service provider hitting all your KPI metrics, delivering the services the contract requires, you might be completely oblivious to an undercurrent of dissatisfaction, even among your most seemingly happy service buyers. We interviewed many contact center clients for our recent Contact Center Operations Blueprint report and the one resounding piece of feedback, even from clients that achieved Winner's Circle glory, was that service providers need to be much more proactive, in particular with improving customer experience. Omnichannel discussions have got them thirsty for ideas, and they want leadership and guidance. They are hearing "digital customer experience" everywhere and need help with how to approach it. So while business is humming along as usual, and buyers may not be telling you directly, they're wanting a lot more from their contact center providers.
This is not to say providers don't have the capabilities. There's some pretty exciting stuff happening in this space, and contact center providers have been eager to rave to us analysts about things like omnichannel platforms, customer journey mapping, sophisticated analytics and the like, which could all somehow get baked into "proactive" ideas for clients. It seems like these value added services are landing on the ears of new logos, but many long term clients are unaware that their providers had these capabilities. In fact, most of the clients we spoke to were only using their service providers for basic phone and email customer service and not much else. No doubt being a trusted, reliable partner is still of prime importance; it's the foundation of every successful contact center BPO relationship. A lot of these relationships are long term, stable, comfortable relationships. When things are going well, why rock the boat?
This doesn't necessarily mean that buyers are lining up to jump ship on their current providers, but, as one buyer put it, regarding transforming for digital customer experience, "I started on this journey with them but don't know if they can keep up the pace in the future." Times are changing, and rapidly, for contact center dynamics. Consider that new HfS research covering 361 major enterprise buyers indicates that 15% of customer service/ sales support buyers are likely to change sourcing providers when their contract is up, combined with an increasingly competitive marketplace, and you realize that breaking up may not be that hard to do in this space: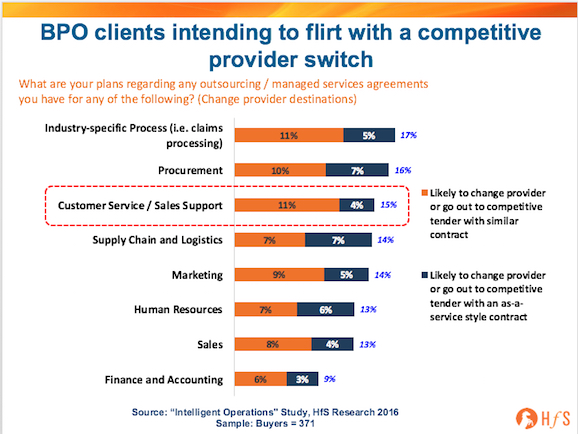 Along with this need to showcase higher value CX services to key clients is also a recognition of legacy engagements that need to morph or face imminent danger of extinction. One buyer reference I spoke with from an office supply chain had 700 plus BPO agents, many doing data entry of B2B orders that are faxed in. He praised his service provider's work, especially their ability to meet SLAs. This is problematic for many reasons. For one thing, in the short term view, OCR can likely do most or all of the work those agents are doing. For another, who still wants to submit an order via fax? This company needs to implement an online ordering system or will be out of business in short time. One way or another this contract is going away in the foreseeable future. So now is the time to take the opportunity to step up and to help roll out an automation strategy, assist the client with digital transformation and customer experience by designing and setting up web ordering…. or just wait a while and let it die a slow death on its own.

The Bottom Line: The comfort zone has become a deceptive place for unsuspecting providers
By not stepping up to this call for action, service providers are missing opportunities to establish better client relationships, leaving money on the table, and burying their heads in the sand about the quality of their client relationships—and the future of the contact center business. This business is fast commoditizing, with many providers chasing too few clients – if you fail to do anything more that the basics you could be in for a rude awakening come renewal time. So be proactive, go see you clients and ask them where they aren't being delighted – and come equipped with plans to surprise them.
Posted in : Business Process Outsourcing (BPO), Contact Center and Omni-Channel, CRM and Marketing