SYNNEX-owned Concentrix today announced a definitive agreement to buy Canadian born Minacs, previously owned by Indian conglomerate Aditya Birla Group and presently owned by two private equity firms. HfS estimates the combined entity will easily surpass $2bn in 2016 and is a singificantly show of force to the rest of the contact center industry.
Minacs is an approximately $500m services firm with 21,000+ employees focused on contact center BPO servicers and a strong background in automotive, with about 40% of revenues coming from that industry. Minacs has always been a solid player with a strong Apple relationship and good marketing analytics/ support capability. The service provider struggled to position itself in the US and trying to get into markets where it had small chances of success, like banking, procurement and a small F&A play. The acquisition price looks reasonable and adds considerable size and scale to Concentrix. While there are some clear signals that Concentrix is looking up the CX value chain (and there are some good upsell opportunities with existing clients), the most prominent feature of this deal will be scale—raising Concentrix to the $2bn level and positioning itself firmly against Teleperformance/ Convergys/ Arvato at the lead end of the market. Not only that, HfS revenue analysis shows the combined entity leading the market in terms of revenue growth: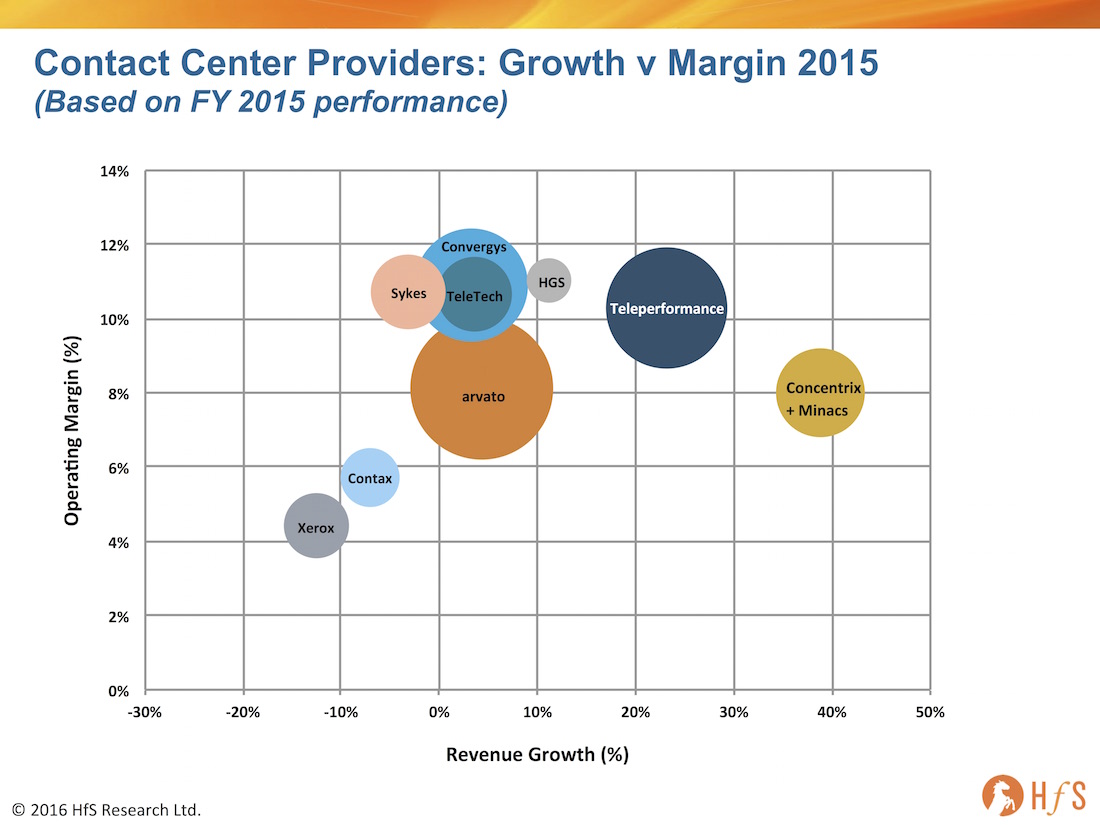 (Click to Enlarge)
The addition of Minacs would bring Concentrix the following key assets:
Digital Marketing Capabilities/ Loyalty Marketing, especially in the area of automotive where Minacs helps clients navigate OEM. In addition to expertise, Minacs has proprietary marketing automation tools which have been customized for vertical alignment.
Delivery Footprint: The acquisition of Minacs would broaden delivery with sizeable nearshore operations in Mexico, the Dominican and Jamaica and offshore in India and the Philippines.
Analytics: Given that Concentrix analytics story has not been vertically focused, Minacs' strong industry aligned analytics may help Concentrix to develop analytics expertise in key industries such as automotive, telecom, media and high tech.
Concentrix is wise to build out more digital capabilities in the marketing realm, the way that other pure play providers the way Sykes has with ClearLink, TeleTech is doing with Revana, and Indian BPOs and multi-nationals have been building for a while. This is a natural next step to explore the inherent complements of tying in contact center with the greater picture of customer experience, given the increasingly blurred lines between marketing and customer care. As with all providers attempting to address all elements of the front end, the key will be to combine capabilities on marketing automation with CRM, and bring together customer care and marketing stakeholders within client organizations to make strategic decisions for customer experience.
The challenge for Concentrix will be to stabilize leadership as Minacs has had recent C-Suite attrition issues, high staffing turnover rates and poor organization at Minacs according to glass door reviews. A recent Minacs analytics acquisition also brings the challenge of attempting to cobble together these disparate entities. And the assertion that the acquisition expands Concentrix into Internet of Things (IoT)' is questionable; this is initially really more depth in automotive.
The Bottom-line: A solid scale play with potential – Concentrix now needs to demonstrate a commitment to enhancing the digital customer experience
The global scale play is compelling as long as the larger entity operates efficiently next year once combined, and enables more depth and a platform for more omnichannel offerings to both sellers and customers. As with all the recent M&A activity in this space, this acquisition is more about added scale than skill, but we would love to see one of the major contact center players acquire one of the design consultancies/ creative agencies to really get in the forefront of the market to address digital customer experience. The implications in the greater market are that the leading contact center operators need to get focused on designing and enabling the digital customer experience—those who don't will be caught up in the cost focused race to the bottom.
Posted in : Contact Center and Omni-Channel