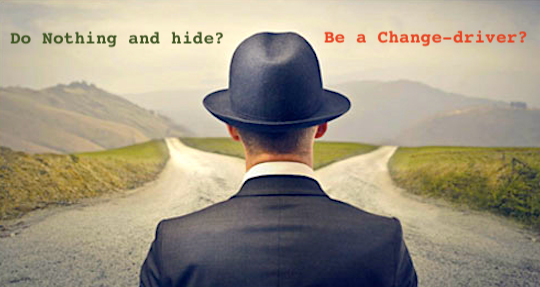 When it comes to staying relevant in today's workforce, let's get to the heart of the matter – YOU have a simple choice to make:
Do nothing and be part of the "Frozen Middle". Decide you can't be bothered to learn anything new, so make sure your firm has the same attitude (or has a thin veneer of innovation masking a cesspool of lethargy and love of perpetuating legacy processes and business practices). And ride this next wave of hype out for a few years before you can quietly ride off into a comfortable sunset, or…
Become a change-driver. Decide you have to get ahead of emerging technologies and their massive impact on business ecosystems and make sure your firm has what it takes to sponsor your burning ambition to drive cultural changes, new learning and ability to rethink how business processes and practices are wired.
Once you decide which of these two categories which you wish to belong, then make sure you're in the right company to execute your survival plan… otherwise, leave and find one that is.
Because the data from the recent World Economic Forum jobs study shows half of enterprises are being held back because their staff fails to understand the disruptive changes in their industry, and an alarming 37% of enterprise leaders do not feel their current
Posted in: Digital OneOffice, Global Workforce and Talent