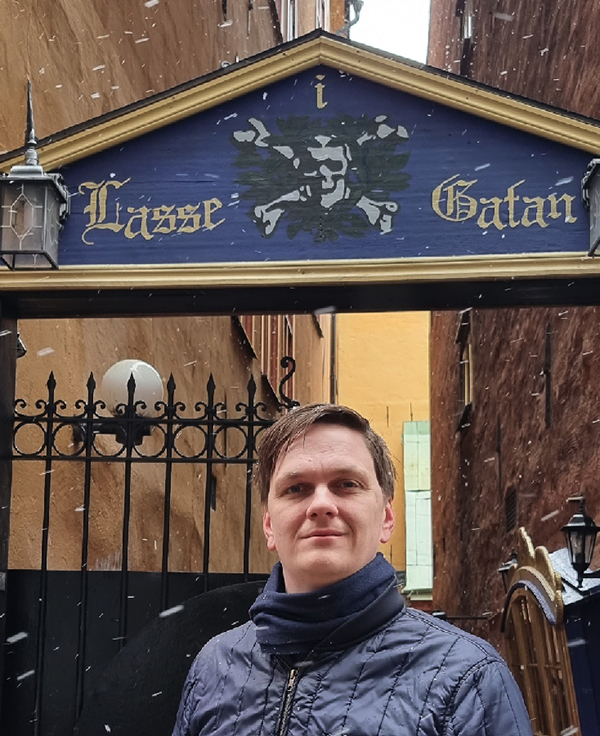 Yes, folks, HFS Nordics is up and running, and who better to lead this expansion for us than the digital Danish diva himself, Lasse Rindom.
Despite his obsession with history books and quantum theory, Lasse is actually a "registered" soccer player in Denmark, officially recognized as a soccer player – by the Danish soccer authorities.  And he scored a couple of goals last weekend, also…
This is highly impressive until you discover his passion for Arsenal (ugh)… a fact he kept very quiet during his interview process with two Tottenham supporters. However, the center of his world is his lovely wife of 17 years and three boys aged 5, 13, and 14. Let's just hope he hasn't brainwashed all of them into the dark side of English football 😉
Phil Fersht, CEO HFS Research: Welcome to HFS, Lasse! So, what gets you up in the morning? 
Lasse Rindom, Associate Practice Leader, IT Services:  Making coffee for my wife! She refuses to get out of bed until it is ready, and with three kids, we need to be two for the job.
But what gets me moving after having sent everyone off to school and daycare? Great people and curiosity. I love meeting new people and I love catching up with old friends, and I believe that friends and networking are the best ways to keep up to date and to feed my curiosity. I tend to think I get my best ideas in conversations where I am at once challenged and challenging, and I always seek engaging conversations with brilliant people.
My curiosity has always been about finding ever-greater patterns and seeking the big picture. This also drove me to my degree in history, as I sought answers and patterns in the way humans had interacted across organisations, nations, cultures, and ideas in the past. It is sort of the same approach I have brought with me into my professional career, always being curious about emerging trends, overlaps and cutbacks between IT and business. I am driven by how IT and business interact and what truths and logics govern both sides as they change the world through ever-increasing concerted effort.
You've been a tech guy on the customer-side most of your career, Lasse. What did you like most about it? And what do you find most frustrating? 
I have gone both customer-side and consultant-side, and both on large, global enterprises and SMBs, so I have been around. From a customer perspective, the most frustrating side of tech is definitely trying to match IT and business agendas. The need for stability, which I see as the traditional IT raison d'etre, does not always engage properly with the need for aggressive and rapid business agility. Add to that the interaction with consultants who follow their own logic, both on tech and business, and you have a complex landscape to maneuver. But then again, this complexity, while frustrating at times, is also exactly what makes it fun to carve out real opportunities for change.
From a consultant's perspective, the most frustrating is the stop-go nature of engagements. Often you identify a solution that could really spur the client on, but the often very formalized, risk-averse and transactional nature of your relationship with the client acts detrimental to a more organic partnership. And again, the best side is a shadow of the frustrating one, as stop-go also takes you across a very wide array of clients… which feeds my curious, social nature, so…
In your "real-world experience" as we embark on yet another deluge of hype, this time around AI, what shiny new tech has actually borne fruit and what's been all noise and no substance?
My point is – the hype is superfluous, Phil. It is dreams coming together as clouds on the horizon, but there is still a lot of ways to go before rain falls on your field.
I don't like to rule any tech out and say it has no substance. Instead, I'd rather latch onto the noise part and say that a lot of new tech is overhyped before it is mature enough to make any impact. Take for instance, blockchain. After Maersk recently announced it had given up on its large-scale blockchain project, it was difficult to hide a sense of disappointment in the technology. If a company that, in their own words, moves around 6% of the world's GDP in containers could not gain real value from a blockchain trail on container movements around the world, who could? But with the emergence of generative AI and a world of scams, it seems maybe blockchain as technology was waiting for this moment to show its real potential – to help us validate what's real and what's not.
Likewise, I have also felt a great enthusiasm for low-code application platforms that allows an app to be created in an instant. The way most of these platforms allow you to develop rapidly while maintaining strong security and data privacy seemed like a game changer years ago, but it never really kicked off in the way I felt it would. It became to citizen developer-driven, too small for IT to see as anything but a nuisance, and building blocks were always a bit too limited to feel truly inspiring for something grand. But again, I feel this is an area that is truly picking up after GenAI, with people now building chatty apps like never before. Of course, the success of the Power Platform by Microsoft has also helped in this regard, as Power Apps became a solution at the tip of the fingers for everyone with an Office license.
And of course, I could mention RPA and the whole citizen developer normative, which are, in my opinion, almost obvious examples of overhyped solutions that both were in essence, answers to questions other than the ones they wanted to answer. RPA is an answer for legacy, not for automation, while CDs are the new excel jockeys, not your new IT department – not even with generative AI. People thinking generative AI will make IT simple has no clue about enterprise architecture and cyber security and what "everyone can code" means for the stress level of both.
And in the same vein, I believe we are still waiting to see what question it is that generative AI will really be answering. But I am quite excited about the potential, as many others.
So you've decided to make the move into the analyst industry, Lasse… What are you hoping to change about it?  Or do you think we just need more Magic Quadrants and blah pontifications, and all is just perfect as it is?
First of all, I am hoping to learn a lot from my brilliant new colleagues! I am very aware that I am new in the analyst industry and will be looking to gain a great foothold in it by learning from the best – and by having great conversations with brilliant minds from clients and partners.
Without going too aggressive on what I hope to change, Phil, I will just say this: I have promised myself to always seek strong and strict analytical concepts that can be adapted and applied both diachronically and synchronically – across time, across geographies, across enterprises and enterprise sizes, and most importantly also across theoretical interactions with other analytical concepts. I know this might sound a bit… much, but it has been a driver for me also when studying history to seek these almost blindingly clear concepts that tell us something truly novel about what we are doing. This also means, of course, that if you do e.g., a magic quadrant and you intend to keep doing it year-on-year, you must stick to the same strict analytical concept… some reports don't exercise this very well. I am not content with different names for the same rose, even if it smells as sweet because we can't analyse that properly.
So, in short, I aim to be an analytical analyst and take those words very seriously. At least, this is the vow I am joining HFS with.
And why choose HFS?  What will you be writing about? What is it you care about?
Well, obviously, HFS has some of the most brilliant people! This makes quite a difference in my book, as I always want to work with and learn from the best. But beyond that, I really like the no bs agenda I find in most HFS work. We tell the truth as far as we can see it and we are okay with not always knowing, but then we will be asking the right questions hopefully instead. I really believe this inquisitive and open-minded culture will fit me very well, and for me, honestly, I only ever considered HFS if I were to go analyst.
I will be covering the IT services industry and writing a lot about what happens in this space alongside Tom, the executive research leader for IT services. But I will also be writing about what drives the intersection of IT and business in general: what slows down adoption, what kicks it off, what are the shadows sides of this or that hype technology, and what technology is in for a renaissance. "Two sides of the coin" – that could be my HFS blog, haha!
So, finally, Lasse, what do you think we'll be talking about in a year? Can many of today's enterprises survive if they don't change their legacy habits? Many firms have changed little since the pandemic (even moving backward), while others are rethinking their whole business and IT strategy to embrace the future…
Well, today we are all talking about what we can do with generative AI and AI in general. But I think this massive global humanity-encompassing change management project that the release of ChatGPT kicked off will be what we are all talking about in a year. Privacy, IP rights, identity theft, spam, and phishing – these issues will only escalate until they become as prominent as the current hype.
But from an enterprise perspective, we will also be seeing the first scaled successes of it, and this will put a lot of stress on everyone who has not yet embraced it. The race is on, and the potential of this technology to redefine customer experience for instance, will lead to significant competitive advantage for early adopters. It is time for enterprises to realize that this is not some new over-hyped RPA – this will fundamentally change how we deal with text – upstream and downstream.
I also loved how you phrased the digital dichotomy recently; how was it – the great hurry to innovate and the urge to drive out cost. I believe the need to innovate and get your data AI-ready will push a lot of enterprises away from cost-cutting. You really cannot keep working in blue-screen terminal applications in an age of AI and this really is the message for 2023 and the final warning for legacy-run enterprises. That's what we will be talking about, I believe.
Welcome to HFS, Lasse – we can't wait to read your keen insights!
Same Phil, really looking forward to this – and thank you for trusting me!
Posted in : Agile, Automation, Autonomous Enterprise, ChatGPT, Cloud Computing, IT Outsourcing / IT Services, Robotic Process Automation