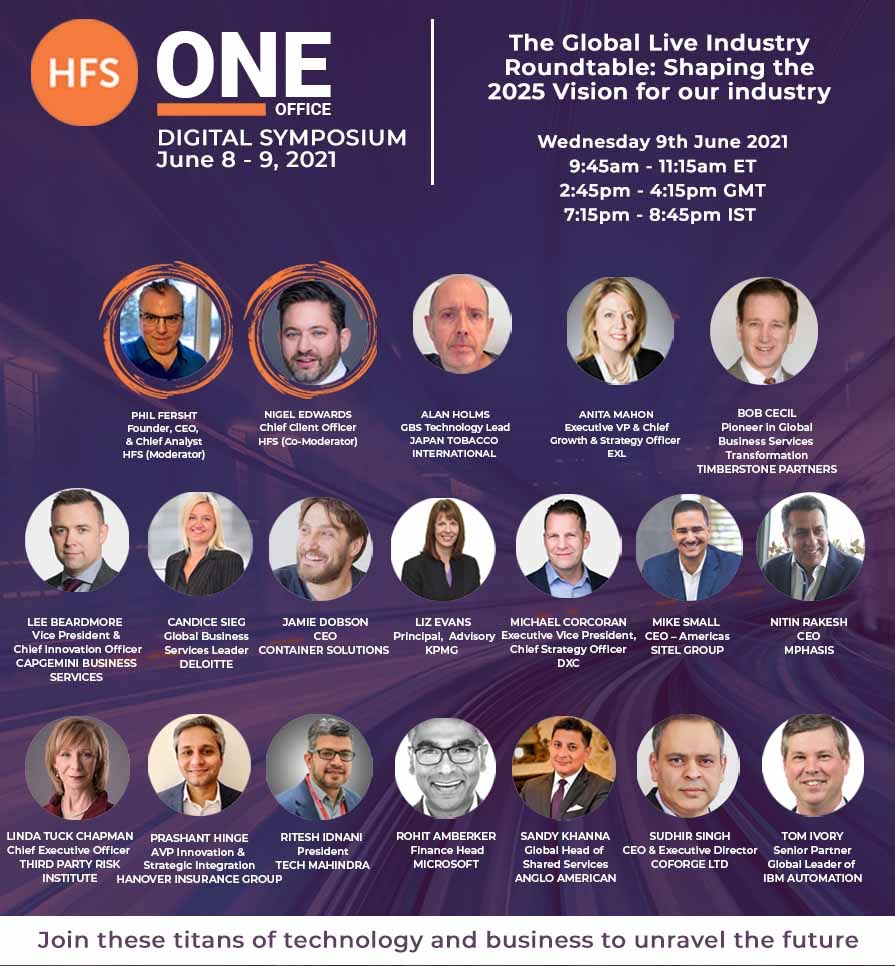 To kick off day 2, we are welcoming Francesca Gino, Award-winning Harvard Business School professor and author of Rebel Talent, followed by the ultimate cross-section of industry leaders debating the vision for 2025 and beyond for our industry (gasp). No tickets to the HFS Symposium? Not to worry - join us for the live stream on the HFS YouTube channel today! 
The Global Live Industry Roundtable:
Shaping the 2025 Vision for our Industry
June 9th  | 9:45 am – 11:15 am ET
STREAM IT TODAY
Topics Include:
What's the winning operating model:  GBS versus Outsourcing. Will GBS come roaring back or is the centralized in-house model crumbling?  Are we seeing a whole new era of outsourcing emerging as we stumble back to some form or hybrid reality?
Future of data, processes, and automation. What are the barriers to implementing a consistent global data strategy? How do you cultivate trust in data to accelerate digital transformation and empower your people? 
People + data is where the magic happens. How do you inspire your people to embrace emerging tech and the virtual enterprise in today's reality and beyond?
How to avoid change management failure. Change management is the unspoken critical component of transformation; what's working and what's not? How does change management get the voice it deserves?
How can we get past the lip service to see our industry embed inclusion and climate change strategies into our DNA?  Let's bring it on, folks!
See you very soon!
Posted in: Business Process Outsourcing (BPO), Digital Transformation, Global Business Services