Not only is a clearer picture of the "future of work" emerging in today's new reality, but its very nature is also changing day-by-day. In short, no one can paint an accurate picture of what the emerging work environment will eventually look like, but we can develop scenarios to understand how this will play out in the coming months and years. What is clear is enterprises are grappling with the need to drive unprecedented innovation in a work-from-home culture, and are figuring out how to arrive at a more predictable, acceptable, and effective work culture as we look beyond this pandemic era. Developing a work-from-home capability is the table-stake to survive in today's environment, but innovation will only thrive in a hybrid work environment where people can inspire and motivate each other.
There is only so much you can achieve remotely – the smart way forward is a hybrid work model
We've talked to hundreds of executives over the past year, and they all complain about the same thing - they are managing an almost unmanageable amount of internal meetings over video calls, simply to keep the wheels on basic task management and accountability. Simply put, it's becoming increasingly complex and awkward to run business operations in a remote model where training is a huge challenge, where motivating people is almost impossible, where getting beyond the basics of keeping activities functioning is a huge challenge. Communicating, collaborating, idea-sharing, white-boarding, etc are critical for taking businesses forwards and driving real innovation. They are also critical for helping employees become comfortable with change, to be comfortable with automating mundane elements of their jobs, and to become adept at embracing ways of accessing the data needed to exploit market opportunities.
With industry lines blurring, supply chains fragmenting and new opportunities and challenges springing up at a breathtaking pace, the time to bring people back together is fast-arriving, and so many enterprise leaders are now seeing this in spades.
Embedding digital fluency into your workforce is paramount to drive a truly cloud-enabled business architecture
The clearest barometer that shows the major changes facing Global 2000 enterprises over the next 12-18 months are the clear priorities to develop "Digitally Fluent" workforces to be best equipped to function effectively in the cloud.
Digital Fluency describes the ability to drive the seamless interplay between business and technology:
Ability to translate the understanding of digital tools to create new ways to serve customers' needs and drive value;
Ability to consider how digital technology will impact every aspect, every functional area of the organization;
Ability to examine the organization's business model, strategy, and operations in the context of digital technology.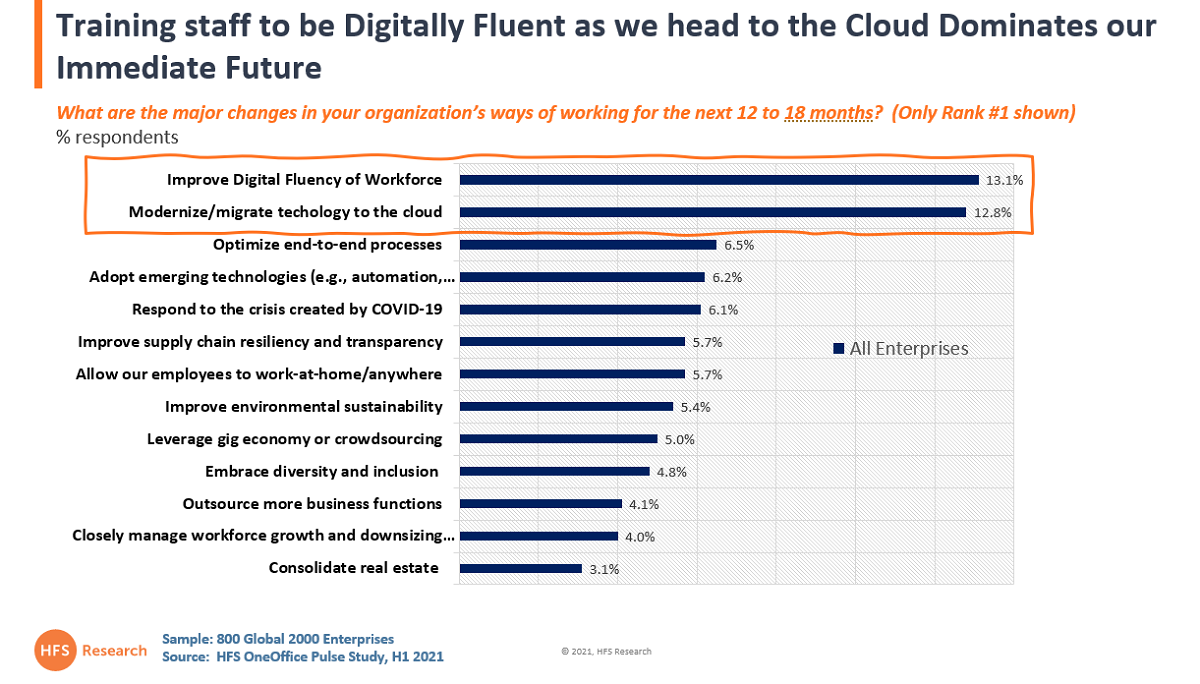 While the magic number from the new HFS Pulse study of 800 Global 2000 indicates that 60% of staff will return to the office over the next year, we must recognize that this is not a static
Posted in: Digital OneOffice, Global Workforce and Talent