Now most of you have finally realized that blockchain means something more than some weird disruptive currency you completely avoided buying when it could have netted you millions, we need to get much more familiar with the actual enterprise platforms being developed, where the true potential of this ledger technology can be unleashed on our enterprises, supply chains and industries.
So we asked our blockchain boffins Saurabh Gupta and Mayank Madhur to take a deeper look at the top 5, namely: Ethereum, Hyperledger Fabric, R3 Corda, Ripple, and Quorum. Please note that Bitcoin does not make it to our list of top 5 platforms. In fact, it does not make the top 10 list when we talk about enterprise application of Blockchain.
The objective of our research is to understand blockchain platforms that show promise in solving complex business problems: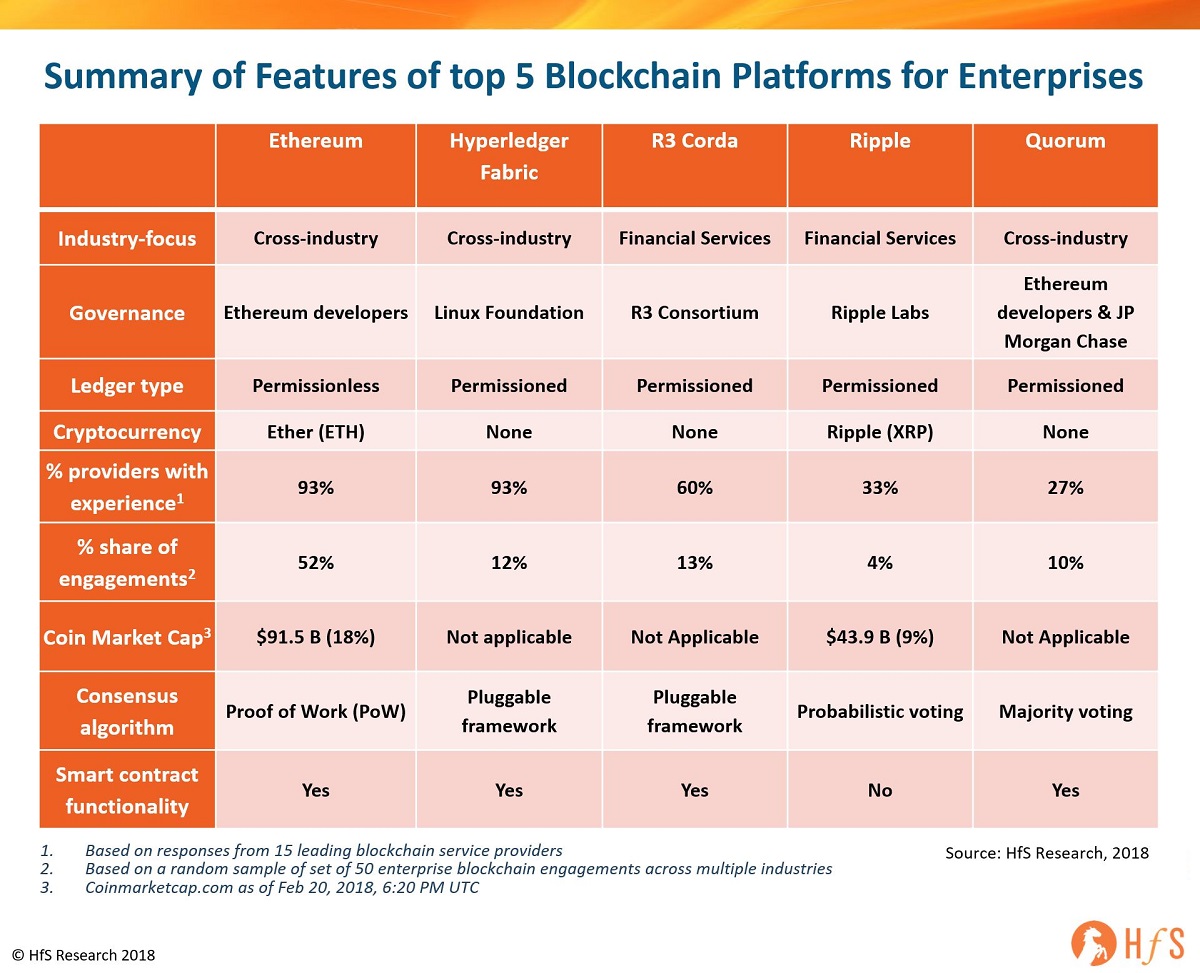 #1. Ethereum. Mature Smart Contracting Cross-Industry Platform
"Ethereum is a platform that makes it possible for any developer to write and distribute next-generation decentralized applications."
- Vitalik Buterin, Co-Founder, Ethereum
Founded by the 22 year old Russian-Canadian Vitalk Buterin, Ethereum is one of the most mature blockchain platforms available today. Known for its robust smart contracting functionality and flexibility, it is used widely across multiple industry use-cases. It has the largest number of use-cases available today (50%+ in our sample set). Along with Hyperledger Fabric, Ethereum has developed a large online support community as well has frequent product updates and enhancements.
The Ethereum Enterprise Alliance (EEA), a non-profit organization is now over 250+ members strong and connects Fortune 500 enterprises, startups, academics, and technology vendors with Ethereum subject matter experts. Despite its widespread adoption in enterprise use-cases, it's important to realize that Ethereum is essentially a permissionless (or public) platform that is designed for mass consumption versus restricted access (typical requirement for privacy requirements in enterprise use-cases). It is also PoW (proof-of-work) based which is not the fastest (resulting in potential latency issues) and is an energy-sucker. Though it might change its consensus algorithm to the fast PoS (proof-of-stake) in future versions.
#2. Hyperledger Fabric. B2B-focused Modular Blockchain Platform
"As new technology develops, there is a call for standards. Participants want to focus on time and effort and investment to build solutions versus worrying about the framework. This is the rationale for open standards…we are pulling together the most exciting portfolio with a multi-
Posted in: Blockchain