---
If you've been covering the legacy world of Business Process Management (BPM) software and the emergence of Robotic Process Automation (RPA) software for the past two decades, it's fascinating to see the two solutions to mesh together, as customers need the full gamut of automation help: the digitization of manual work, the scripting, and integration of static data that provide the foundation for the automation of the digital processes.
Then you can get to the really exciting stuff of recognizing data patterns, taking advantage of machine learning to make systems self-remediating, and, ultimately, the injection of intelligence to make them absorb everything around them to become predictive and human-like in the way they operate. This is why we're seeing the likes of Pega peering into the RPA space, Blue Prism partnering with Appian and AutomationAnywhere now partnering with IBM's BPM software solution. We're also seeing some novel approaches, such as intelligent automation provider WorkFusion donate free RPA software to the world to bridge the divide between the manual and the digital quandary.
Yes, people, there appears to be a fair bit of life left in the HfS Intelligent Automation Continuum. Despite some critics who believe RPA is a very separate solution than digital autonomics, machine learning, cognitive and AI, the fundamental thought-process behind the HfS Continuum model still rings true: all the approaches illustrated are both overlapping and interdependent: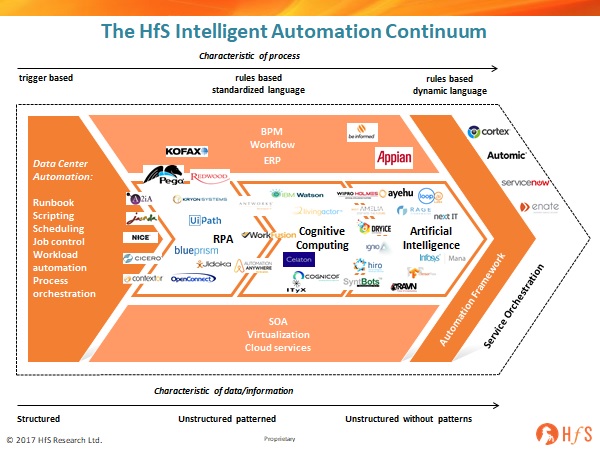 Notwithstanding all the feverish excitement on RPA and Cognitive, we still need to include all the less exciting - but critical – activities, like runbooks and scripting, and how these approaches must be integrated into broader digital process workflows. True Digital OneOffice only works when all breakpoints and silos are effectively automated. If you truly want all touchpoints and processes across your organization focused on executing your vision of customer experiences and building foundational capabilities that support this entire philosophy, you have to address the entire Intelligent Automation Continuum if you want a data backbone that operates in synch across your customers, partners, and employees.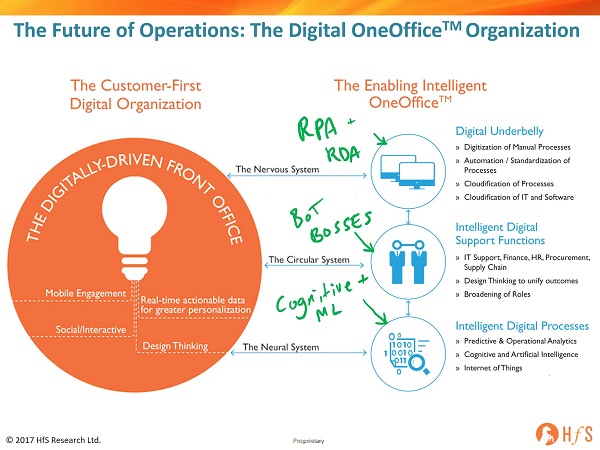 This is the context in which the announcement of IBM's partnership with AutomationAnywhere comes in.
As part of the agreement, the two companies plan to integrate Automation Anywhere's RPA platform with IBM's portfolio of digital process automation software. The main focus will be on integrating Automation Anywhere with IBM's Business Process Manager and Operational Decision Manager. Crucially, integration is meant to be on code level and therefore goes beyond more loosely integrated partnerships between BPM and RPA players. These enhanced
---
Tired of the Blockchain hype? You should be, but the emergence of Hyperledger Fabric 1.0 gives us a sense of the reality to come and where this is all heading. Let's dive in...

Hyperledger announced the release of Hyperledger Fabric 1.0 yesterday (see press release). Hyperledger Fabric is an open-source platform, hosted by the Linux Foundation that allows organizations to develop Blockchain applications. Version 1.0 marks the release of a production-ready platform that goes beyond pilots and proof of concepts. 159 engineers from 28 organizations collaborated over a 16-month period to make this happen.
There are multiple Blockchain platforms that exist today. Ethereum is the most mature public platform (besides Bitcoin) with tremendous potential and over 500 use-cases in various stages of development. There are multiple other private or semi-private platforms such as Ripple and Chain. Hyperledger Fabric is younger than many others, but there are three characteristics that make it important for enterprises that want to solve business pain points, leveraging Blockchain:
Flexible. The architecture of Hyperledger Fabric can run like a private or hybrid or public platform, making it potentially more secure from a data-privacy standpoint thus rendering itself enterprise ready
Open-Source. Hyperledger is an open source collaborative effort created to advance cross-industry blockchain technologies. It is a global collaboration, hosted by The Linux Foundation, including leaders in finance, banking, Internet of Things, supply chains, manufacturing, and Technology. This structure gives it the potential to become the de-facto standard which will become an important adoption criterion going forward
Not crypto-currency based. Hyperledger does not have a crypto-currency (such as Bitcoin or Ether) which potentially renders it more usable for business applications as not every potential use case needs a currency
The announcement marks a significant move forward to leverage Blockchain for business use cases. The Hyperledger Fabric project started in March 2016 based on merged codebases from IBM and Digital Assets Holding. It moved out of incubation 12 months later and was ready for pilots and POCs. Now four months later, they have released Hyperledger Fabric 1.0 – a production ready version.
Does this mean that Blockchain can now become mainstream for enterprise adoption? No.
These are the three challenges the Blockchain pioneers must address to make the technology truly enterprise ready:
1) Technical challenges. Blockchains by design will never be able to complete thousands of transactions in a second, but the technologies do need to be able to scale up for enterprise-grade performance, efficiency, and costs. Hyperledger Fabric promises to solve this by not using consensus-driven Proof of Work (PoW) that most other Blockchains are built upon and requires major computing power
2) Policy challenges. There are no Blockchain standards, there exist multiple platforms with no interoperability, and there are no regulations in this space. And these are not easy questions to solve. For example, given that all Blockchains are Distributed Ledgers, which geographical jurisdiction will be applicable?
3) Nascency challenges. Several challenges stem from its nascency and novelty. Lack of proven use cases, limited understanding of technology and its potential, limited talent and skill-sets shortage across IT and business, etc. The inherent power and potential of the concept with the help of some pioneering risk-takers will help pull it through such nascency challenges, but it will take time
Bottom-line: There is still a long road ahead for Blockchain, but real progress is being made.
Notwithstanding these challenges, the advancements in Blockchain technology are happening at a frenetic pace. Market developments such as this Hyperledger Fabric 1.0 release are important milestones in the development of this space. It's important for enterprises to take notice and start investigating.
---
I was struck by the similarities between Global Business Services (GBS) and Empires after reading 'Sapiens: A Brief History of Humankind' by Noah Harari. He says:
"An Empire is a political order with two important characteristics. First, to qualify for that designation, you have to rule over a significant number of distinct peoples, each possessing a different cultural identity and a separate territory….Second, empires are characterized by flexible borders and a potentially unlimited appetite…"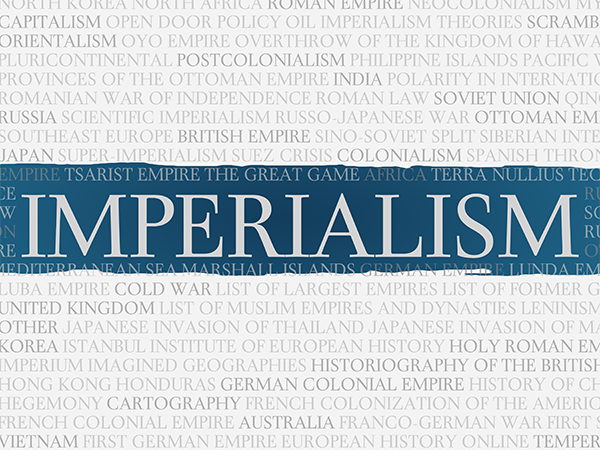 These two characteristics of an empire are uncannily similar to Global Business Service (GBS) organizations. GBS is:
Multi-function. GBS organizations aim to deliver services across multiple business functions (aka distinct peoples with different identities) such as F&A, HR, IT, procurement etc. all under one organizational umbrella.
Multi-geography. GBS organizations also aim to deliver its services across all regions and countries (aka flexible boundaries) that a company operates in.
The basis of the creation of Empires and GBS also has similarity. For Empires, it is about basic unity of the entire world around a central ideology. For GBS, that ideology is around standardization, collaboration, and effectiveness.
This all becomes troubling when you realize that we all have a very negative connotation around the word "Imperialism". We tend to associate wars, brutality, coercion, oppression, and so on when we talk about imperialism.
So, is GBS also this brutal? I think it depends on what lens you view it from:
People lens. GBS makes total sense if you are sitting in the corporate headquarters but will be a bitter pill to swallow if you are the one who loses your job because of what you and many others consider to be some corporate mumbo jumbo and the latest consultant gimmick
Time lens. It feels like an achievement in hindsight but it is really challenging during set-up. Have you thought why almost everyone describes their experience of setting up a GBS as 'war stories with battle scars to prove it'? I've not met anyone who has told me that the journey was smooth and they did not meet any resistance.
Bottom-line: GBS will work as long as we keep people at the core, define our outcomes and keep an eye on the future
However, I don't think there is any value in painting GBS as black or white. Like almost everything in life, it has shades of gray. The most important question is 'how can we make it better?' And I think this is where GBS organizations can learn from the rise and fall of Empires.
Lesson #1. Focusing on developing talent is at the crux. GBS is about people and will not succeed without buy-in from people. The tone from the top helps but cannot be the only driver for sustainable success. Phil's recent rant on this subject is spot on – too many enterprises are obsessed with achieving a scalable operational backbone centered on technology, as opposed to talent
Lesson #2. Make sure you know what "success" looks like. Balancing efficiency with empathy is an important concept to keep in mind. Also, there is a diminishing return to efficiency improvements and cost reductions. After a certain point of time, it really does not matter. What matters is business outcomes and for that, you need motivated talent.
Lesson #3. All good things come to an end. Every empire eventually falls. GBS is the concept that we are all rallying behind in recent times, but you can be pretty sure we will come up with an even better framework for organizing ourselves to deliver work in future (such as the HfS framework, the Digital OneOfficeTM). The life expectancy of ideas is coming down dramatically, as we jumpS-curves in years not decades. So it is extremely important that we keep looking out at the future. Keep testing, keep piloting, keep investigating. This is how we at HfS Research are designing our future research agenda – but more on that later!
Disclaimer: I am a firm believer in the value and concept of GBS. My sole objective of this post is to make it more human.