---
Digital is all about an organization's ability to respond to the needs of their customers as those needs happen - or even be smart enough to anticipate those needs before they happen. This is all enabled by interactive technologies to create those touchless interfaces with the customers. Smart analytics and AI enable organizations to anticipate these needs based on the ability to recognize patterns and inferences over time, but nothing can really substitute for human intelligence to bring customers, suppliers and employees closer together, unimpeded by frustrating silos and legacy processes.
Remember, every broken process chain, or poorly converged dataset, slows down an organization's ability to do business in real-time and stay ahead of its market. Traditional barriers between front, middle and back offices hinder the true ability of companies to operate in this real-time, responsive and anticipatory digital fashion, which is why we coined the term "OneOffice", where the unification of digital business models, intelligent automation, analytics and creative talent is happening before our very eyes.
The HfS Digital OneOffice Framework (see below) describes how organizations must integrate their digital customer interfaces with their operations in order to fulfill and anticipate their customers' needs. It is the organizational end-state to survive and succeed in a world where digitized processes dictate how responsive, agile, cost-effective, predictive and intelligent firms have to be to stay competitive.
To this end, we have delved deep into all the four dimensions of the Digital OneOffice, and conducted deep analyst discussion to aggregate service provider performance at delivering the sum of the Digital OneOffice parts:
Digitally driven front office
Digital underbelly
Intelligent digital support functions
Predictive digital insights
HfS Premium subscribers can click here to access their full copy of the 2018 Blueprint Report: Digital OneOffice Services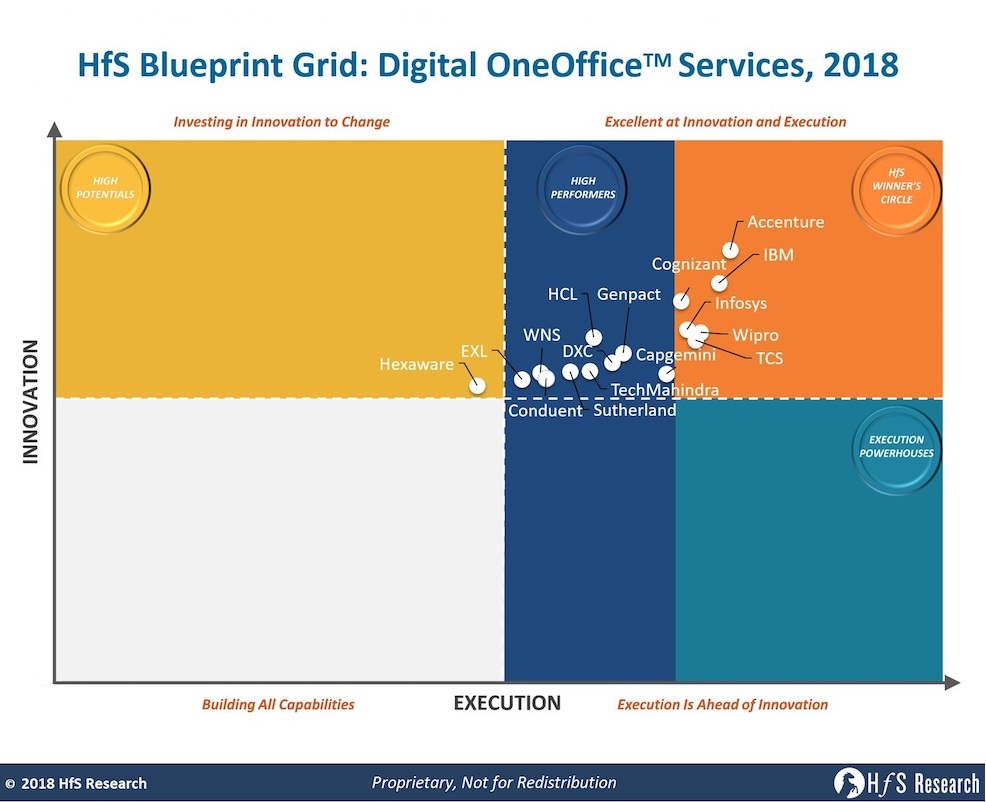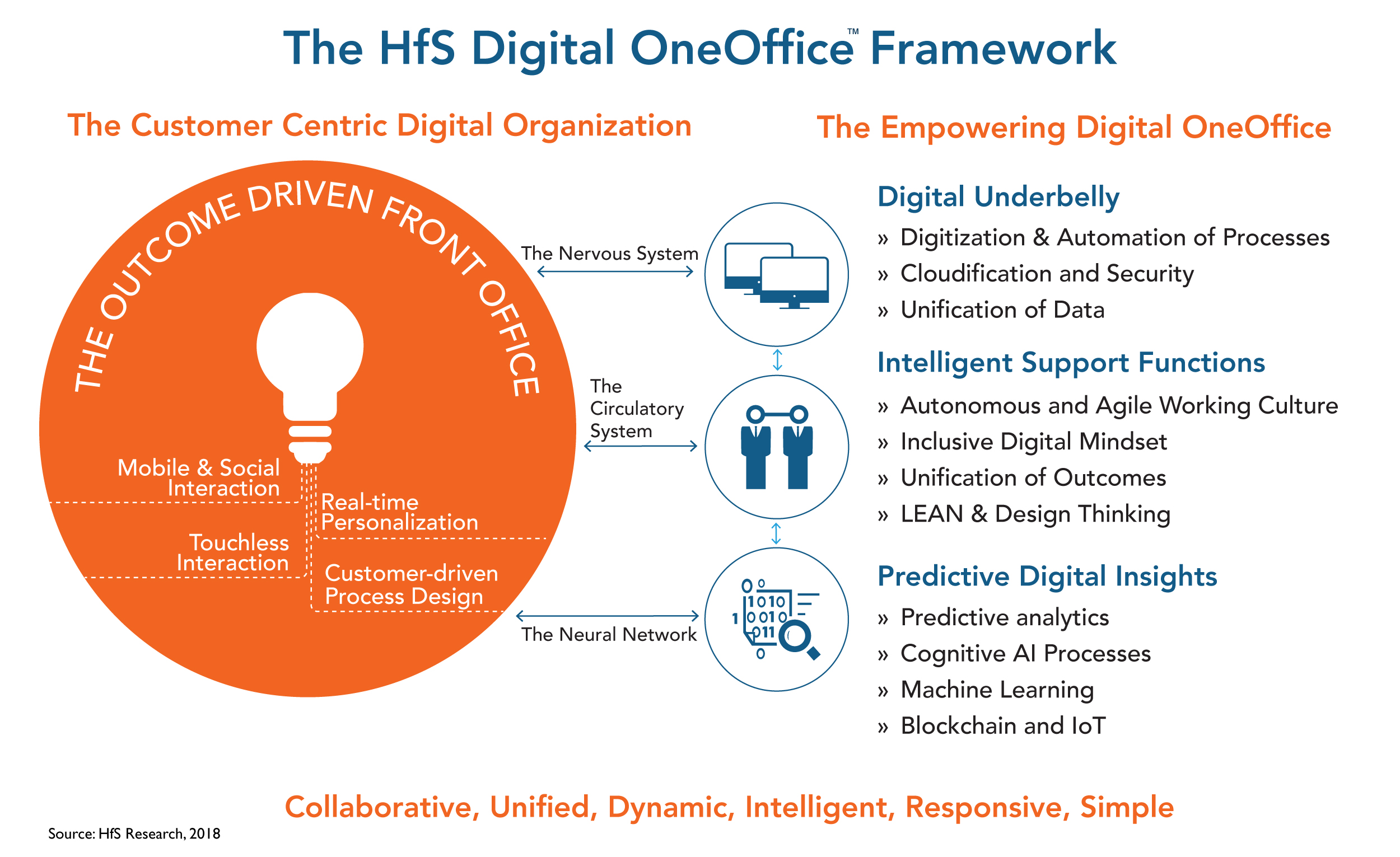 So how did the Winner's Circle service providers fair?
Accenture
Strengths
Well-rounded portfolio across OneOffice: Accenture has the best performance overall across the OneOffice portfolio, and a breadth of industry expertise to complement it. Accenture placed in the Winners' Circle for each of the Blueprint studies used to compile this OneOffice assessment.
Strong marketing operations capabilities to support integrated digital OneOffice offerings. Accenture has 16,000 business-focused staff dedicated to delivering digital marketing assignments - a considerable asset that goes well beyond the firm's IT delivery.
Strong intelligent automation capabilities. Acquisition of GenFour and exciting partnerships, with significant investments, with the likes of Automation Anywhere, Blue Prism and IPSoft.
Winning with thought leadership: Accenture is well-known as a thought leader across many of the change agents as well as within individual industries.
C-Suite relationships beyond IT. Digital business and intelligent automation decisions are largely being driven by both IT and business C-Suite executives in the Global 2000. Accenture has the combination of strategic relationships outside of IT, in addition to the managed services execution.
Leveraging creative assets for CX and UX design: Accenture has developed an industry-leading focus on becoming a customer experience expert, as evidenced by its 30+ design agency assets, by the broadest portfolio of digital design assets in the services industry (click here for a full list of digital M&A in services.)
Challenges
Size can work in its disfavor: Its size and success have given Accenture a reputation as a premium, high cost, and less responsive organization. In particular, for smaller companies, just this perception in the market can steer buyers instead toward more niche specialized agencies and the attention, flexibility, and experience they receive from a smaller provider.
Finding the right culture balance: Accenture is well known for its results-driven, traditional consultancy culture, which will need to be balanced out or effectively blended with the more left-brain focused acquisitions in order to retain creative talent and remain generally effective.
Proving to the industry it can deliver the end-to-end Digital OneOffice portfolio: There is no doubt that Accenture can pick up strategic work and execute for clients, but being able to demonstrate to the industry it can deliver both the strategic design integrated with complex operational delivery - at scale - is still in its infancy. Many of its competitors will fight hard for execution work where Accenture is delivering the high-end design and consulting. It needs to demonstrate the "one-stop OneOffice shop" is where it wins.
IBM
Strengths
Strong intelligent OneOffice offering: Market leading capabilities to drive the OneOffice underbelly (automation, security, cloudification) and neural networks (AI, smart analytics, blockchain, and IoT). Impressive development of credible global automation capability and several notable early wins.
Portfolio breadth: End-to-end and scaled IT and business process services across front, middle, and back-office.
Horizon 4 investments: Very strong investments and IP in horizon 4 (and beyond) technologies that will shape the future (e.g., Quantum Computing).
Design Thinking: Has made some considerable investments in recent years, but needs to align more aggressively with OneOffice approach
Watson: The analytics/cognitive powerhouse has a significant role to play as a cognitive virtual agent, an analytics resource that has huge scalabiity and a long-term investment area for firms with deep interests in their cognitive capabilities.
Challenges
Size can be a disadvantage: IBM is a large and complex organization, which makes it hard to seamlessly deliver all that it has to offer.
Translating tech to business outcomes: IBM is often perceived as a technology powerhouse, but one lacking the business translation and context to successfully apply emerging technologies.
Agility: Lacks the nimbleness and flexibility of smaller players.
Focus on cognitive may impede its ability to compete for design-focused end-to-end deals: IBM has substantial credibility to drive analytics-driven, cognitive/automation projects, but its lesser focus (over the last couple of years) on true digital design may see it lose out to firms such as Accenture and Cognizant, where digital is firmly established at their core.
Cognizant