---
When you have to listen to literally hundreds of people a day spouting advice about reskilling, unlearning, change management, relearning etc., I am going to respond with "great, so what are you doing yourself to stay ahead of today's digital environment and increase your value as a superstar worker?" You may love to pontificate constantly weird definitions of digital transformation on twitter and harp on about today's digital talent needs, but do you truly practice what you preach?
Is it just me, or have we entered an environment where everyone loves to talk about change, but most aren't actually doing anything (themselves) about it?
I mean, if your accountant hadn't bothered to brush up on the latest tax changes, or your personal trainer didn't know how to use a Fitbit, you probably would seek to replace those relationships in your life. So what gives IT professionals the right not to learn Python, or learn how to deploy data management / automation tools? And what gives business executives the right not to learn how to use non-code analytics tools to help their decision-making, or social media products to help them communicate in the market? And operations executives the right not to learn low-code automation and AI apps that can help them free up people-hours on work that adds no strategic value to the business? And who told sales and marketing executives it was fine to ignore really learning the products / services they were selling because all they had to do was to follow a set of pre-defined processes to do their job effectively?
Why have so many of us become so complacent?
It just seems that the majority of workers today just think they need to learn to follow a few processes and that's all they need to do to command a tasty salary and remain employed for years and years…. so few people actually realize that the whole nature of people value is changing for enterprises – they just love to do things the same old way they have always done them, and simply cannot be expected to learning anything new. "We just don't have the talent in-house to do that" is the constant whine we hear from enterprises; and "our IT managers are project managers, not consultants" is what we hear from service providers. Then why don't you train them? Is our agonized response. Why does everything have to stay paralyzed in this constant vacuum of sameness?
Much depends on the approach our enterprises take to driving change
The biggest problem with enterprise operations today is the simple fact that most firms still run most of their processes exactly the same way as they did decades years ago, with the only "innovation" being models like offshore outsourcing and shared service centers, cloud and digital technologies enabling those same processes to be conducted steadily faster and cheaper. However, fundamental changes have not been made to intrinsic business processes – most companies still operate with their major functions such as procurement, customer service, marketing, finance, HR and supply chain operating in individual silos, with IT operating as a non-strategic vehicle to maintain the status quo and keep the lights on.
As our Hyperconnected journey illustrates, many industries have now reached a place where they have maximized all their delivery methods for getting processes executed as efficiently and cheaply as possible. They have tackled the early phases of digital impact by embracing interactive technologies to help them respond to their customer needs as those needs occur, whether electronic or voice.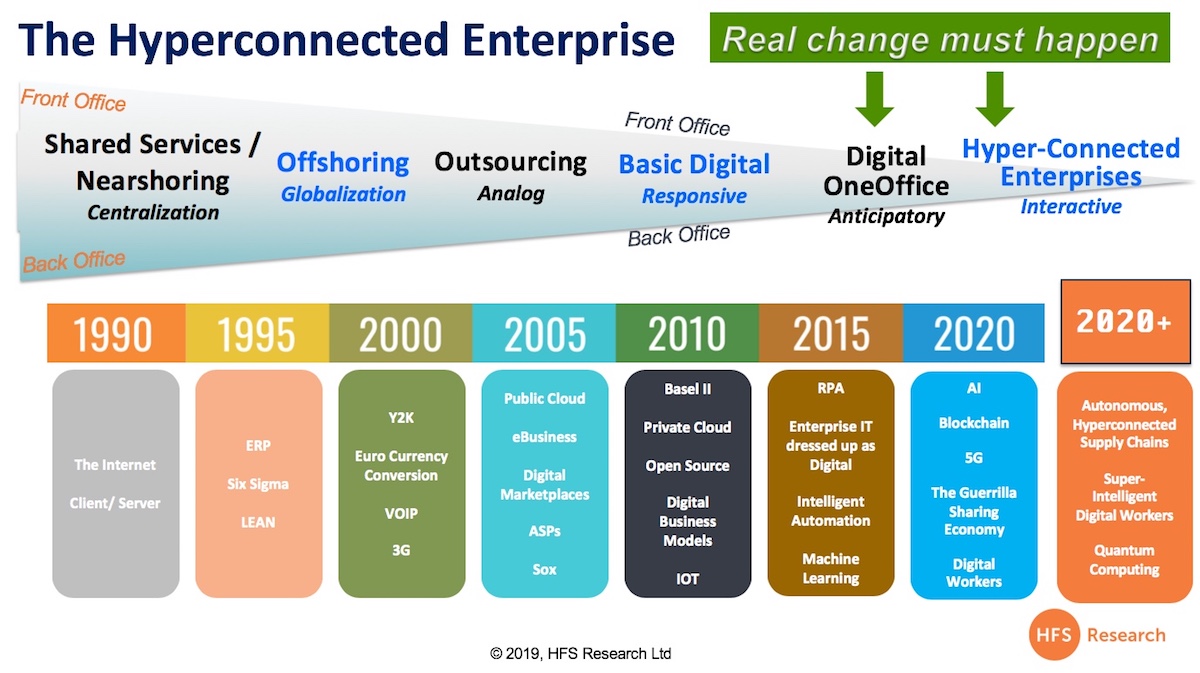 In short, most enterprises have been able to keep pace with each other without actually changing the underlying logic of processes. Simply doing things the same old way has been enough for many, until a competitor comes along with an entirely unique way of servicing your