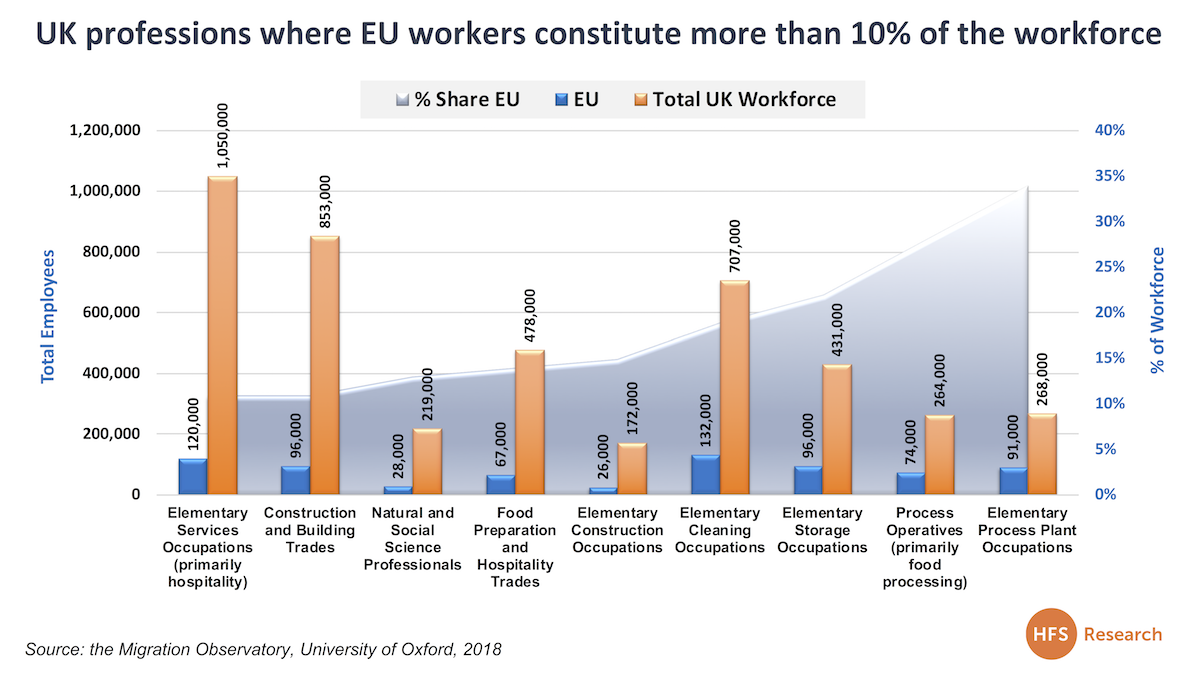 However which way you analyze all the economic indicators, and whatever your opinion may be regarding Britain's relationship with the European Union (EU), removing the movement of EU labour into the UK will create a perilous shortage of labour, particularly for low-to-mid skilled professions. If anything, removing worker base at the lower end of the skills spectrum is worse than at the high-end, for the simple reason it's much harder to entice people into jobs that may be low-paid, unattractive and - in many cases - require hard graft for low wages. How are our hotels and restaurants going to find 120,000 staff willing to work for the minimum wage; our food factories to renew a third of their workforces to prepare our food; our cleaning firms going to backfill 132,000 people willing to mop and scrub for a living? The answer is sadly obvious - many of our industries will be under real threat of implosion because they simply cannot access the people they need to keep them functioning.
And without a thriving working class, the economy will suffer due to less money being spent, our businesses will suffer because of rising hotel costs, our entire society will suffer because of rising food costs, our commercial and domestic real estate markets will struggle to complete projects. While professions like education and hi-tech can source talent from elsewhere (and are less reliant on EU people imports) it's those industries that form the underbelly of the economy which will really suffer. Forget "trickle down economics" Brexit will cause a "trickle up" effect that will be hazardous for the British economy and its mid-long term sustainability. In the short-term, many EU workers in the UK should be able to stay on, but the reliable conveyor belt of workers prepared to roll their sleeves up and support our entire economic underbelly will be permanently halted, and the availability of workers will get progressively worse - and much more expensive with this shrinking supply of people.
So, without further ado, let's dive into the fuller implications of this seemingly masochistic self-flagellation known as "Brexit"...
Nice try Theresa, but even your dancing can't make us forget about the increasingly no-win Brexit scenario
For our fellow Britons, these past few weeks have been a refreshing break from the normal Brexit debates as we became distracted instead by our premier literally dancing for trade agreements. Trade agreements that, even for the most dismally poor mathematicians, don't stack up when compared to the one we'll soon be leaving.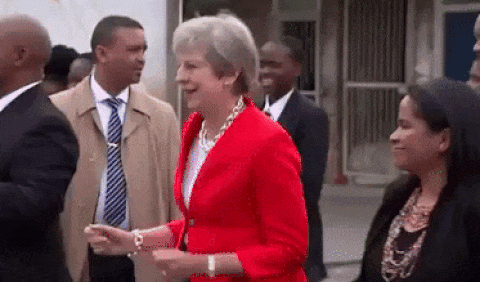 Brexit has been a topic of heated debate for years now - and I'm sure we all have that friend or relative you daren't mention Brexit in front of or risk a lecture based on unfounded inferences and sketchy sources. In many ways, it's these long-winded and often inebriated debates that are the problem - we're close to the day we sever ties with Europe and reclaim some sort of democratic freedom that only a nation with several unelected heads of state can find any ironic sense in. And yet we're no closer to understanding what Brexit means - even if we had a clear picture of how awful it will be at least that's something we can prepare for. Instead of this mind-numbingly irritating narrative from British politicians of 'Don't worry, it'll all work out in the end.' Well, unfortunately, we're not an eight-year-old child looking for reassurance from our
Posted in: Policy and Regulations