---
In many ways, health care has been impersonal for many years… the focus being on the illness, treatment, and cure, rather than the person who hosts that illness. With the increase in focus (and payment) on value-based care, though, the holdouts that have not thought about the whole person have to do so now. It's time to realize if you haven't already that considering the mental, economic, and social determinants of people's lives is not just for "tree-huggers" but are proven to be critical for effective treatment and impact on health and medical outcomes.
Consider the rise of the "Walking Gallery of Healthcare" (shout out to Regina Holliday who has painted over 400 jackets with the representation of people's health experience and medical journeys). These visual cues remind us of the people who house and treat illness and how their behaviors and attitudes have an impact on the cost and better, more empathetic care. They help create networks and community to share insights and lessons as well as emotional support. While metrics are important, outcomes can't just be measured in numbers if you want to effect real change. There also needs to be a "feeling" of momentum and community for realizing value-based care.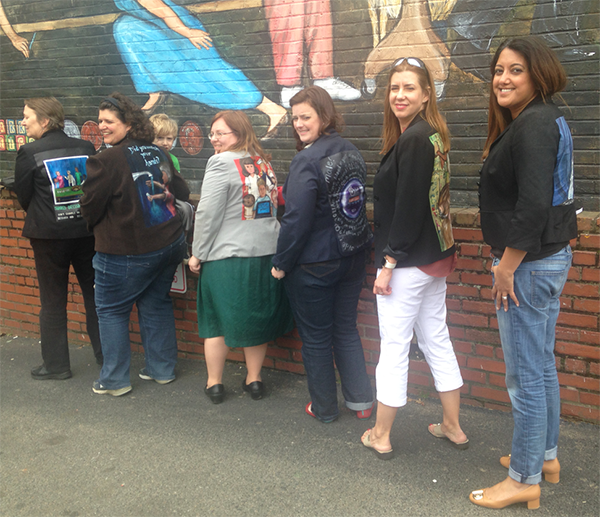 Photo of Regina Holliday with members of the Walking Gallery
How do you measure the impact of transformation?
Effective treatment and prevention of disease and illness are often measured in outcomes like lower rates of diabetes or heart disease, for example, a higher standard of living, reduced readmissions to hospitals, less use of emergency rooms, and overall lower cost of health and care per person. But it can also be measured in how people behave – a healthier change in the way they live and work, a "chain reaction" in that a patient becomes a coach or champion for others going through what they did, or a series of stories the inspire action.
Here are some of the ways we are seeing health care organizations explore these outcomes:
Visual Cues: An experiment explored the impact of a medication on patients by looking at photographs by a patient (note: not of the patient).[1] For example, before being on medication, a patient captured his story in pictures in an app (think Instagram story). The pictures showed the inside of his house, the television, pizza, a dog, dim lighting, and no other people. After being treated, including medication, the story changed and the pictures in the app showed a girlfriend, a road trip, and an app that he is developing to help other people with similar medical issues. It shows that he is more active, more engaged with other people, and feels empowered to work.
Experience through Simulation: Clinical and administrative professionals at a hospital near Boston spent a day together in a design thinking workshop focused on better understanding their patient population. They started by developing personas that represent members of the community they serve and then walking them through the journey the patients take in their hospital. A clinical manager shared: "We know who the people are who are coming through the doors. But as we built the persona for a person who comes into the hospital on an ambulance, into the ER, and eventually moves to an in-patient stay, we felt more and more how intense it must be for the patient. The number of touch-points gets exponentially bigger as they go through their experience, their journey. And we are not always thinking about it that way. It's our day job, and we are used to it. But this person is sick and vulnerable, and here we are descending with advice, interventions, meds, and education…. It was really good to have the front line providers and staff from different departments involved in this act of re-creating the patient experience so we can support the patient and each other better during busy times on the floor."[2] (link)
Connect with the Community: If you are a hospital or clinic, how do you interact with your community? A hospital invited members of a community that had a high incidence of diabetes in an open forum to discuss medical needs. They didn't hear people say, "I wish I had a doctor and medication." They talked about wanting a playground and healthy food options. The local community center partnered with the hospital to create a garden, yoga, and cooking classes, convert open spaces, and offer dental care.
Changing behaviors has an economic impact on business as well
Only viable businesses can serve health care consumers and patients and have an impact on the high spend in the industry overall. LGH, for example, is making the effort to connect with its community because they believe that by better understanding the individuals they can have an impact on the health and medical well-being of patients as well as the financial status of the hospital itself.
Everyone working in the health care industry has an opportunity to have an impact – from the front lines of doctors, nurses and caregivers to the business operators in finance, facilities management, etc. An approach that can get everyone focused on the health care consumer is to put empathy – walking in your patient or health care consumer's shoes – at the center of the way you work.
The bottom line: This transformation -- incorporating empathy and addressing behaviors -- is required for health care organizations in order to remain financially viable as well as a trusted community resource.
Empathy is the core tenant of design thinking, which can help in revisiting workflows, building apps, and developing solutions that address real human needs. Start with observing, interacting with and thinking about your patient or customer. The practical and business-like side of us often takes over and asks: "what's the real value"? Along with tracking metrics for reduced readmissions and patient satisfaction scores, consider how visual cues and social momentum are also valid measurements of the success of investing in innovation and change that's so needed in the health care industry.
[1] IDEO webinar, "Healthcare and design thinking," July 18, 2017.
[2] http://www.hfsresearch.com/pointsofview/inside-the-patient-experience-design-thinking-workshop-with-lawrence-general-hospital-and-sutherland